Billy, labeled as The Sinister Dude, was a contestant in Total Drama Paradise.
Billy is more sinister than one would suspect. He joined TDP in support of S.D.W.W.P. (Sinister Dudes Who Wear Pink).
Chapter Guides
Chapter One - Billy was chosen to be a Fighting Duck, and later threatened to be part of Philip's failed alliance to vote out Belle.
Chapter Two - Billy was chosen to be the first runner in the relay race. "The Rat" tripped Billy, resulting in their loss. He voted with the other guys to vote Martha out.
Chapter Three - Billy was ranked as the fourth most important in the tribe. The Fighting Ducks won invincibility, for the first time, and access to a fruit salad bar.
Chapter Four - "Ugly" tried flirting with Billy, but ended up sending him into hiding. He made it up the volcano in the first 30 minutes. The Fighting Ducks won the challenge.
Chapter Five- Billy ate the romantic dinner with Lucas for unknown reasons. When Lucas told everyone they weren't together, Billy started crying. He was chosen by Julio to be on the Conquering Sloths. The Conquering Sloths won invincibility and a cruise.
Chapter Six - The Conquering Sloths chose Billy to be in the three-legged race. Billy voted with Julio and attempted to vote out Sam, but they failed, and Billy was eliminated. Billy confessed on his way out that he was a member of the Girly Boy Society, which Julio is also in.
Relationship(s)
"Ugly" - "Ugly" liked him, but her hideous face drove Billy into hiding.
Lucas - Lucas sat with Billy during the romantic dinner, due to lack of tables, and Billy started crying when Lucas said they weren't together. They aren't technically a relationship, and were seated together for comical purposes.
Alliance(s)
Billy was forced into an alliance lead by Philip.
Then, he was in an alliance with Josh, Dyl, "Dome", and Lucas.
Background
Billy was never masculine. He was picked last for sports, but girls liked being around him. His dad accepted him, but was sad that Billy never used his strength to its fullest potential. Billy liked helping his mom shop for clothes. He has a lot of friends, mostly girls. None of them think of him in a romantic way however.
Trivia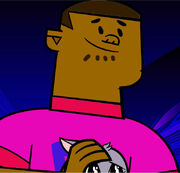 Community content is available under
CC-BY-SA
unless otherwise noted.