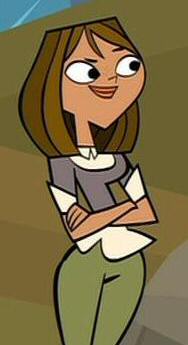 This character page is designed for use with Total Drama Island, by Gilbert and Sullivan
Characterization
Courtney is a Type A go-getter. Despite being one of the few contestants with relevant prior experience—as she reminded people at every opportunity, in her main running gag—her record in the challenges was not particularly strong. Most notably, she seemed unable to face fear, and failed two challenges because of this. (In Total Drama Action, she became a dominant player.) Courtney is essentially Heather without the evilness, although this distinction was eventually blurred under Duncan's corrupting influence.
Courtney became the leader of the Killer Bass, partly because she has a dominant personality and partly because nobody else seemed to want the job. A love-hate relationship with Duncan eventually came to dominate her screen time. The first major character to be eliminated, due to vote tampering by Harold, Courtney was the first of three contestants who had to be removed by force.
In the episode where Courtney was eliminated, Duncan succeeded in opening her eyes to the attraction of living outside the law. In later episodes, therefore, the Guide to Incidents frequently refers to Courtney as "Darth Moll". (A "moll" is a gangster's girlfriend.)
Courtney's pairing with Duncan has a reasonably close analog (Ralph/Josephine in H.M.S. Pinafore) in the Gilbert & Sullivan series.
Courtney's Theme
Excerpt from Finale Act I of Ruddigore (MIDI file 7:05 – 8:04)
(click first link above for the MIDI file)
When I'm a bad Bart, I will tell taradiddles!

He'll tell taradiddles when he's a bad Bart.

I'll play a bad part on the falsest of fiddles,

On very false fiddles he'll play a bad part!

But until that takes place I must be conscientious—

He'll be conscientious until that takes place.

Then adieu with good grace to my morals sententious!

To morals sententious adieu with good grace!
Courtney/Duncan Relationship Theme
"Never mind the Why and Wherefore"from H.M.S. Pinafore (gender roles partially reversed; originally a trio)
(click on the link below for the MIDI file)
Never mind the why and wherefore,
Love can level ranks, and therefore,
Though his lordship's station's mighty,
Though stupendous be his brain,
Though your tastes are mean and flighty
And your fortune poor and plain,


Let the air with joy be laden,

Rend with songs the air above,

For the union of a maiden

With the man who owns her love!




Never mind the why and wherefore,

Love can level ranks, and therefore,

Though your nautical relation

In my set could scarcely pass—

Though you occupy a station

In the lower middle class—




Let the air with joy be laden, etc.




Never mind the why and wherefore,

Love can level ranks, and therefore

I admit the jurisdiction;

Ably have you played your part;

You have carried firm conviction

To my hesitating heart.




Let the air with joy be laden, etc.
Community content is available under
CC-BY-SA
unless otherwise noted.