This is a

Featured Character

. That means that it was voted to be one of the best and most beloved characters on the wiki.
This character won the award of Best Portrayal of a
Canon Character in a Non-Competition Story at the 2012 Wiki Awards!
Gull is a character from Total Drama Island. He was never part of the cast or crew, but appears in many of the episodes. With the help of first-time author, Jay, Gull has told his own story of how he came to be on the show in The Seagull's Tale. He is also featured in The Loon's Tale.
Thankfully, Gull no longer wears the 6-pack necklace that he always had on in the series.
Gull has made a speech, thanking everyone who has helped to make him a Featured Character. His speechwriter, Jay, has finished writing it, and added her own short speech, since she was the writer that made Gull so well known. Also, thank you to everyone who has made Gull's FC possible. :D
Gull has recently won Best Canon Character, and is extremely grateful to everyone who voted for him and made this win possible. Thank you! :)
Gull is now a guest character in the latest chapter of Reddy's "Total Drama: Status Quo", Bruno's story, "Paradise Falls", and Sprink's story, "Total Deception Island". Thank you, Reddy, Bruno and Sprink! :D
Thank you Sunshine! She has created Gull's Seal of Approval for me! :D Hooray! :)
Gull's Seal of Approval has been awarded to Rhonda and Reddy for their conservation work with Gull! Also to Sunshine for her exemplary work in teaching Gull how to speak human, and for helping Jay to write these biographies for the many readers out there!
Because Jay wanted more than this select few to be able to enjoy this amazing award, all of the folks who have been lucky enough to have had their names used in these stories have also been awarded 'Gull's Seal' for their outstanding work in conservation and cleanup. Congratulations, and thank you! :D
Suta made a fabulous picture of Gull in a beautiful landscape that I simply must share with everyone! Thank you, Suta!! :D This gorgeous original artwork also won Featured Image for October 2012. :D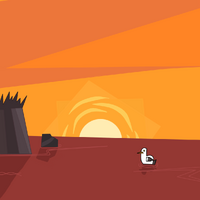 Community content is available under
CC-BY-SA
unless otherwise noted.