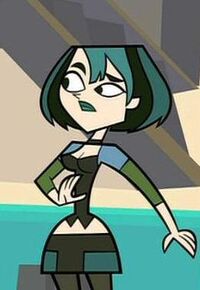 This character page is designed for use with Total Drama Island, by Gilbert and Sullivan
Characterization
Gwen is a Goth whose acerbic demeanor would be at home on The Simpsons. A loner who is more respected than liked, she rode two traits—tremendous endurance and iron will—to a peerless record in the challenges and a second-place finish overall.
Gwen's relationship with Trent—a major reason why she became more outgoing over the course of the season—was the subject of notable continuity lapses, giving their relationship a schizophrenic feel. Although Gwen was not depicted as being one of the prettier girls, she was the only girl to have two boys (Trent and Cody) vying for her affections.
Gwen's characterization was softened significantly in Season 2, presumably to reflect her increased familiarity with and ease in the company of the other contestants.
Gwen is frequently drawn with one eye larger than the other. This was probably intended to suggest the mannerism of raising one eyebrow (ala Star Trek's Mr. Spock), but it gives her a Picassolike quality.
Gwen's Theme
"When the Night Wind Howls" from Ruddigore (MIDI file 3:30 – 5:55)
(click on the link below for the MIDI file)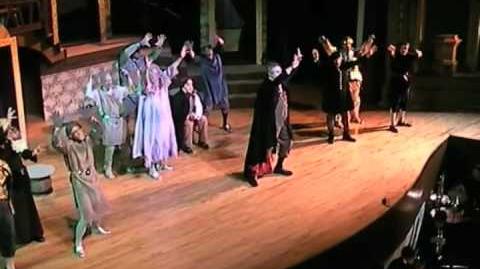 Gwen/Trent Relationship Theme
"There Grew a Little Flower" from Ruddigore
(click on the link below for the MIDI file)
Gwen/Cody Relationship Theme
"I Have a Song" (verses 1&2 or reprise) from The Yeomen of the Guard
(click on the link below for the MIDI file)
(Reprise theme, from Finale Act II, MIDI file 6:33 – 9:12)
(verse 2 lyrics and melody change after Cody steps aside for Trent. Click on the link above for the MIDI file)
Community content is available under
CC-BY-SA
unless otherwise noted.