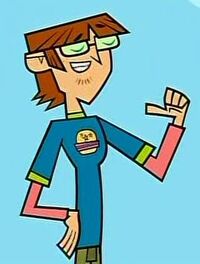 This character page is designed for use with Total Drama Island, by Gilbert and Sullivan
Characterization
Harold is a scrawny, nerdy sort, somewhat similar to Cody. Harold, however, is the outdoorsman and the artiste, whereas Cody is the hard-sciences man. Patterned in part after the title character of the 2004 film, Napoleon Dynamite, Harold had pivotal roles in his team's first two challenge victories, but is best known for rigging a vote against Courtney to avenge himself upon Duncan.
Harold's elimination left the Killer Bass with only four remaining members, so the teams were disbanded in the following episode.
In Total Drama Action, with Cody not competing, Harold quietly inherited Cody's skill set in addition to his own, and became the most resourceful player in the Season 2 field.
Harold's Theme
"And Thus to Empyrean Height" from Princess Ida
(click link below for the MIDI file)
And thus to empyrean height
Of every kind of lore
In search of wisdom's pure delight,
Ambitiously we soar.
In trying to achieve success
No envy racks our heart,
For all we know and all we guess,
We mutually impart!
Harold/LeShawna Relationship Theme
"Hail, Poetry" (hymn from Finale Act I, MIDI file 3:32 – 4:11) from The Pirates of Penzance
(click on the first link above for the MIDI file)
Hail, Poetry, thou heaven-born maid!
Thou gildest even the pirate's trade;
Hail, flowing fount of sentiment!
All hail, all hail, Divine Emollient!
Community content is available under
CC-BY-SA
unless otherwise noted.