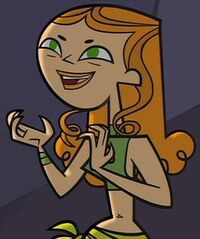 This character page is designed for use with Total Drama Island, by Gilbert and Sullivan
Characterization
Izzy is the resident lunatic, and TDI's counterpart to Daffy Duck. Manic in both speech and action, she does not do things by halves, despite being very flighty. One of two contestants to return at the midpoint, Izzy blossomed from backgrounder to major character in her return engagement.
Izzy has a special affinity with the number seven. In Total Drama Island, she was the 7th contestant eliminated, returned seven episodes later, and ultimately finished 7th. In Total Drama Action, she was eliminated early, but returned in episode #7 and later became the 7th contestant eliminated.
Izzy is one of several TDI characters with a reasonably close analog (Mad Margaret in Ruddigore) in the Gilbert & Sullivan series.
Izzy's Theme
Patter trio, "My eyes are fully open" (verse 2, "If I were not a little mad") from Ruddigore (MIDI file 0:40 – 1:11)
(click first link above for the MIDI file. This song goes roughly as fast as Izzy talks.)
If I were not a little mad and generally silly
I should give you my advice upon the subject, willy-nilly;
I should show you in a moment how to grapple with the question,
And you'd really be astonished at the force of my suggestion.
On the subject I shall write you a most valuable letter,
Full of excellent suggestions when I feel a little better,
But at present I'm afraid I am as mad as any hatter,
So I'll keep 'em to myself, for my opinion doesn't matter!
Izzy/Owen Relationship Theme
"Oh, Joy Unbounded" from Trial By Jury
(click on the link below for the MIDI file)
Oh, joy unbounded,
With wealth surrounded,
The knell is sounded
Of grief and woe.

With love devoted

On you he's doated

To castle moated

Away they go.


I wonder whether

They'll live together

In marriage tether

In manner true?


It seems to me, sir,

Of such as she, sir,

A judge is he, sir,

And a good judge, too.
Other Character Verses
These verses fit Izzy for her nature or background, but don't refer to any specific incidents from the TDI episodes:
Community content is available under
CC-BY-SA
unless otherwise noted.