Name (Age): Alexis "Lex" Donelly (25)
Tribe Designation: Ahay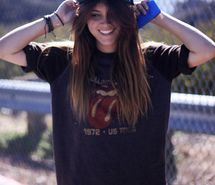 Current Residence: Santa Monica, California
Occupation: Lead singer of the indie rock band "Splemain"
Personal Claim to Fame: Learning to play guitar! Music is my life!
Inspiration in Life: Nirvana. They didn't care about doing things the way other music groups did and cared entirely about writing and playing music, no strings attached!
3 Words to Describe You: Energetic, animated, audiophile
SURVIVOR Contestant You Are Most Like: I'm unique!
Why you think you will be the Sole Survivor:
I know how to sing and entertain people, which will make me too much fun to take out!
Community content is available under
CC-BY-SA
unless otherwise noted.