Sam, labeled as The Barbie Girl, was a contestant in Total Drama Paradise.
Sam joined TDP to show her parents that she's grown up.
Chapter Guide
Chapter One - Sam was chosen to be on the Thrashing Rabbits tribe. They won the challenge, and they got pop-tarts and invincibility
Chapter Two - The Thrashing Rabbits won again. She was not chosen to be in the relay race.
Chapter Three - Sam was ranked the eighth most important member of the tribe. She was part of Lequisha's alliance. She wasn't tricked by Julio, and voted for Jacob.
Chapter Four - Sam fought with Sarah about the next elimination. Sam wanted to vote out Julio for betraying them. She made it up the volcano in the first two hours, and voted for Julio.
Chapter Five - Sam was the only person not picked to be on a tribe, so, by default, joined the Conquering Sloths, with her arch-enemy Julio. The Conquering Sloths won a cruise, and invincibility.
Chapter Six - Sam originally wanted to vote out Julio, but her mind was changed by Veronica to vote out Billy. Sam was chosen to be the dare giver of the Conquering Sloths, probably due to her ruthlessness towards Julio.
Chapter Seven - Sam was confronted by Julio for voting out Billy. At the challenge, she was chosen to be a hunter, but the Conquering Sloths lost. She voted for Julio, along with Veronica and Cindy. Julio and Dustin voted for Sam. Julio played an immunity idol and Sam was voted out.
Alliance(s)
Sam was in Lequisha's alliance, and was the only member to vote Jacob with Lequisha.
Sam was then in an alliance with Veronica and Cindy.
Background
Sam was spoiled rotten as a child. In preschool she wore designer clothing and she had to leave after distracting all the little boys with her incredible beauty. Her parents don't respect her now because she whines when she doesn't get what she wants. They were against her joining the show.
Trivia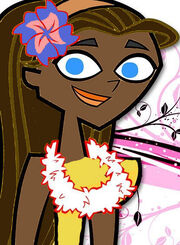 Sam's appearance is an edit of Lindsay.
Sam received two votes.
Sam's final image was made by Fanny.
Community content is available under
CC-BY-SA
unless otherwise noted.