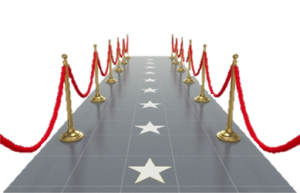 TV Stars Walk of Fame!
Since there's been a break in RPs, I thought I would go ahead and introduce my idea for a TV Stars Walk of Fame. Each user will be able to submit 3 votes for who they want to be inducted into the TV Stars Walk of Fame, and the winning three celebrities will get their own star made for the walk of fame as well as a nice meaty paragraph as to why they were inducted.
The rules are simple:
1. You must vote for 3 Celebrities (which can be found on the TV Stars Wiki). You can leave an explanation as to why you are voting for them if you want. Make sure you vote for your favorite characters or for characters you think played the best in their time in the game.
2. You can only vote once per day in my PM on chat.
Voting ends after one week on Saturday, January 30th.
The results will be revealed in a series of three blog posts that will be posted.
Community content is available under
CC-BY-SA
unless otherwise noted.