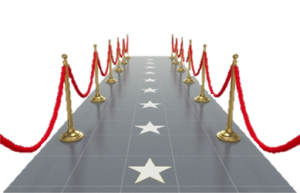 TV Stars Walk of Fame!
Following the completion of TV Stars Road Trip, the second major returnee season of the series, it is now time for the next TV Stars Walk of Fame vote. In round two, you will now vote for the inductees. Voting will span for three days.
The rules are simple:
1. You can vote for any three that you want, even your own characters. Since you were only allowed to nominate one, if others nominated your characters, you may vote for them.
2. Voting will proceed until Sunday, August 27th at 12:00 PM EST.
The nominees are:
Vermin Supreme
Ty
JSV
Villager
Lana Winters
Gideoncrawle
Spencer Bledsoe
Conspiracy Walnut
Burning Wood
Roslyn Correa
Michelle Meyer
Mr. Peanutbutter
Team Rocket Jessie
Team Rocket James
Dan Foley
Honey Lemon
Tiffany Pollard
Tess Tyler
Korra
Reed Kelly
Ashlee Williams
Vote now!
The end results will be revealed in a series of three blog posts that will be posted.
Community content is available under
CC-BY-SA
unless otherwise noted.