Introduction
To commemorate Gigi's story Life After Lies—long and widely regarded as one of the best, if not the best, noncompetition stories on the wiki—winning Featured Story status, I have drawn from my TDI-G&S verses to create a Gilbert & Sullivan playlist for LAL.
Because this is a playlist, and not a scene-by-scene reconstruction like TDI-G&S will be, the following verses are mostly complete songs and don't necessarily refer to specific scenes from LAL. Exceptions are noted where they occur. Some verses have a remarkably literal fit, whereas others fit more for their mood than for their description of events. This playlist includes verses from 12 of the 14 Gilbert & Sullivan series of light operas, with only Patience and The Gondoliers not represented.
Click the hyperlinks to hear the tunes on MIDI files at the Gilbert & Sullivan Archive. The MIDI files are freely downloadable, either singly or in bulk, for readers so inclined. The pages housing these files also have the relevant lyrics, including all repetitions, the better to allow readers so inclined to sing along.

Indents indicate a change of singer (in the original, not necessarily in the LAL reference), and are included primarily to provide some sense of the music for readers who don't choose to click through to the MIDI files, although these indents also inform the verse in some cases

The original stage directions are included in a few cases where they help to inform the verse. These directions are italicized and enclosed in brackets, [thusly]. Underlined terms that are not part of hyperlinks are defined in the Glossary.
Total playing time: 99 minutes, not including the musicless verses from Thespis. (Sadly, most of the music for Thespis has been lost.)
Playlist
Verses: Heather's Backstory
LAL-G&S Theme Song
Recitative and song from Ruddigore
Karma and Compulsion
The story of how (a) karma still has a score to settle with Heather; and (b) Heather, having been told that the Organization has been watching her for her entire life, joined the Organization under compulsion. The first 14 lines (i.e. the first soloist verse and first chorus verse) also fit LAL's interstitial story, Screwed.
Song from Ruddigore:
Verses: The Organization's backstory
From Humble Beginnings…
The story of how the Organization's founder rose, through undeniable professional competence, from freelance assassin to the head of an international organized crime enterprise. Song from Iolanthe:
…but it's not pretty
Ruthlessness is critical to the success of any organized crime enterprise, and the Organization is no exception. Organization operatives will not stop at killing if the situation warrants, and there are indications that they may at times kill without formal authorization. The second part of this song from The Yeomen of the Guard also fits the scene where the steadfast little girl is killed:
Verses: The Organization and its Clients
Comes the Client
A client (Rhodes, for example) engages the Organization's services. Readers so inclined may visualize the client as soloist and Organization personnel as chorus. Song from Princess Ida:
Power and Influence
In this duet, readers so inclined may envision an Organization representative as the first voice and the client as the second voice. The first 12-line verse also fits the scene where Heather assures Noah that she will be able to get her weapons through airport security. Song from Utopia Limited:
Hostage
The Organization sometimes takes hostages on a client's behalf, the better to gain another party's cooperation, and is not above killing said hostages if that's what the client wants. Recitative & song from Princess Ida (excerpt from Finale Act I, MIDI file 4:15 – 6:17):
Professional Detachment
To operate as it does, the Organization needs its agents to maintain a professional detachment, which Heather describes as "indifference to the problems of others". This song from Thespis is about the danger of a boss getting too chummy with his staff, which is a reasonably similar concept. The music for this song, like most of the music for Thespis, has been lost.
Verses: Scene References
Heather watches her "funeral" (ch 1)
In this song from The Mikado, town officials assure the Mikado that they have recently held an execution (as per his orders) when, in fact, they have not. They go on to describe the spurious execution "with most affecting particulars", as the Mikado later puts it. (In the original, soloists sing the 15-line verses and the chorus sings the 6-line verses, but there is no corresponding division in the LAL reference.)
DeMiller briefs Heather (ch 1)
The curious case of Rhodes v. Wilshire: Rhodes lent Wilshire a large sum that Wilshire invested profitably, only to (purportedly) up and die when Rhodes asked to be repaid. (This is the only long playlist item that does not also appear in TDI-G&S.) Excerpts from Act I Finale of Utopia, Limited (MIDI file 6:06 – 6:59 & 11:00 – 13:37):
Once a snark, always a snark (ch 2)
In her first encounter with Noah, Heather learns that captivity has neither cowed him nor dulled his tongue. Song from H.M.S. Pinafore: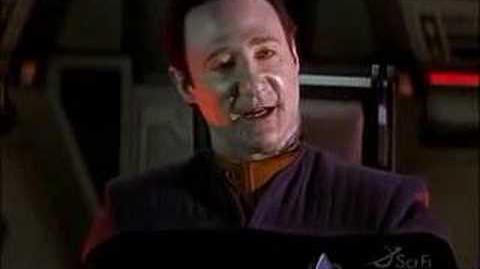 No sleep tonight (ch 2-3)
After her first encounter with Noah, Heather assumes that she will not be getting any sleep that night, although she does manage to get two hours. Recitative and song (the famous "Nightmare Song" from Iolanthe. (At the risk of belaboring the obvious, the reference to "love" in the recitative verse is not to be taken literally here):
A monster in the making (ch 4)
With knife in hand and heavy heart, Heather prepares to torture Noah. The haggard and sleep-deprived Heather looks awful, a fact that naturally does not escape Noah's notice. Song from Ruddigore:
Heather carves Noah's face (ch 4)
The LAL reference does not have the singer changes noted in the original. Excerpts from the Incantation Scene from The Sorcerer:
A small mercy (ch 4)
In the face-carving scene, Heather advises Noah that he will suffer less if he screams quickly. Noah is skeptical of her motives, but Heather explains she has enough burdening her soul as it its. After considering his options, Noah decides to cooperate. Verses from Ruddigore:
Wilshire dismisses Rhodes' threats
On multiple occasions, Wilshire suggests that Rhodes doesn't have it in him to do Noah serious harm. In the stage directions, Noah stands in for King Gama. From Act 1 finale of Princess Ida:
Rhodes pronounces sentence of death upon Noah (ch 9)
Rhodes has had all he can take of Wilshire's dismissive attitude, so he instructs DeMiller to kill Noah. Trio from The Pirates of Penzance:
Noah accepts his fate (ch 10)
Noah, having been told that he will die within a week, appears to accept his fate, at least outwardly. Song from The Yeomen of the Guard:
Heather resolves to liberate Noah (ch 11)
Scene (originally a quartet) from The Yeomen of the Guard:
Noah gives up his bed to Heather (ch 13)
When Heather falls asleep, Noah carries her to his bed. Act 2 Opening chorus & solo from The Pirates of Penzance
An avenging angel takes wing (ch 14)
Heather is dispatched, with Noah in tow, to follow up a lead on Wilshire's whereabouts. Recitative verse from Thespis; the music has been lost:
Sunrise scene & Crying scene (ch 14)
Sunrise scene (verse 1) and Crying scene (verse 2); madrigal from The Mikado:
Airport scene (ch 14)
When Heather presents her skull card to the airport security screener, he grumbles about the Organization but obediently deactivates the detector so Heather can get through with her weapons. Song from The Pirates of Penzance:
Crying scene (ch 14)
First verse of a duet from Ruddigore. Readers so inclined may visualize Heather as the first voice and Noah as the second:
Heather instructs Noah (ch 14)
Heather, preparing to intrude upon Wilshire and his paramour, reminds Noah to play along, since he is supposed to be her prisoner. Readers so inclined may visualize Heather as the first voice and Noah as the second in this duet from Ruddigore: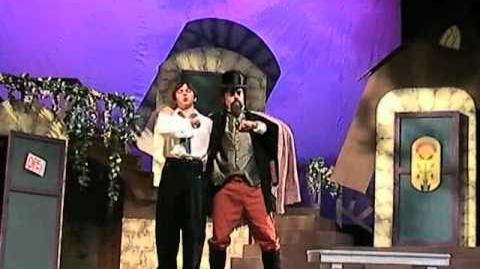 A party at the door (ch 14)
Heather prepares to enter the Mendez house, by force if she must, to confront Wilshire. Chorus & solo from The Pirates of Penzance. (The tune for the section beginning "Come, friends who plow the sea" later became the tune for "Hail, hail, the gang's all here".)
Heather gains entry (ch 15)
Seeing her chance, Heather kicks open the door, gains entry to the Mendez house, and confronts Wilshire. She informs him that she is authorized to kill Noah if see sees fit.
Scene and song excerpted from Act 2 Finale of Princess Ida (MIDI file 3:16 – 8:46):
Wilshire dismisses Heather's threat (ch 15)
Heather threatens to kill Noah before Wilshire's eyes; but Wilshire, seeing a hint of hesitation in Heather, concludes that she is all talk and doesn't think the Organization poses much of a threat, either. Heather is momentarily at a loss for how to proceed. Trio from Utopia, Limited:
Heather defers to Noah (ch 15)
Sensing that Noah wishes to speak to his father, Heather stands aside so that he may do so. Duet from Utopia, Limited:
Noah confronts his father (ch 15)
Song from Trial By Jury:
Noah and his father have words (ch 16)
Noah and Wilshire have a "heart to heart" heavy with recriminations on both sides. Heather, while nominally in control of the situation, has made a number of mistakes related to her inexperience and her sympathy for Noah, and there is some danger that she could lose control of the situation at any time. (Note that, in the operetta, a Statutory Duel is a bloodless alternative to a traditional duel with swords or pistols.) Readers so inclined may visualize Wilshire as the first voice, Noah as the second, and Heather as the chorus. Scene from Act I Finale of The Grand Duke (MIDI file 0:00 - 2:48).
Heather is feeling poorly (ch 16)
Part of the reason Heather's control is tenuous is that she finds the situation physically taxing. She has a bitter headache, her arms are sore from holding two guns for an extended period, a revelation during Noah's "chat" with his father has left her ready to heave, and she also has a number of lesser complaints. Song from The Grand Duke:
Heather leaves Noah to guard his father (ch 16)
Before Heather departs with Rose to get the payment she came for, Heather warns Wilshire that neither the Organization nor the government will react if he is killed. Duet from Utopia, Limited (MIDI file 1:26 - 2:39):
Wilshire defends his relationship with Rose (ch 16)
Noah is not impressed.
Confession
Song from Trial By Jury:
Defense
Song from Trial By Jury:
Noah is about to kill his father (ch 16)
Noah, with his hand on Wilshire's throat, looks ready to kill him with his bare hands, and that his fury just might give him the manic strength he needs to do so. Wilshire seems to be egging Noah on, as if daring him to kill. Excerpt from the Finale of The Pirates of Penzance (MIDI file 5:09 - 5:26):
Wilshire's parting shot (ch 16)
With their "business" concluded and Rhodes' payment--talisman of Noah's freedom--in hand, Heather departs with her "hostage". Wilshire calls out after them, declaring that Noah's life is not worth one dollar, much less $35,000. Conclusion to Finale Act I of The Mikado (MIDI file 10:33 – 13:01)
Crossroads scene (ch 17)
As Heather sits in the rain, pondering her and Noah's uncertain futures, Noah claims an abandoned umbrella nearby. As he deploys it, the slight, susurrous sound is enough to interrupt Heather's reverie. Recitative and mood song (i.e. the song doesn't advance Gilbert's story, either) from Finale Act II of The Pirates of Penzance (MIDI file 0:26 – 3:56):
Noah will not leave Heather (ch 17)
As they prepare to enter the warehouse, Heather tries one last time to convince Noah to "get out while the getting is good"; but Noah is determined that, whatever may be in store for them, they will face it together. Song from Finale Act II of Princess Ida (MIDI file 1:18 – 3:16):
Louder than words (ch 17)
When Noah insists on staying with Heather, they share a brief hug and Noah very nearly confesses…something. This duet from Utopia, Limited is also the compiler's response to the author's concern that she is perhaps being too subtle with the story's romance elements:
Not so clever as she thought (ch 17)
Rhoades reveals that he is wise (or, at least, wise enough) to Heather's plans and knows of her history with Noah. Recitative and song from The Grand Duke. Readers so inclined may visualize the first and second song verses (second and third overall) directed at Noah, with the other verses directed at Heather, although there was no such division in the original (MIDI file 0:13 – 2:47):
Tipped off (ch 17)
Rhoades reveals that he and DeMiller had discussed what to do with Heather when her softness came to light. Duet from H.M.S. Pinafore:
Just as she feared (ch 17)
Heather's worst fears are realized when it becomes clear that Rhoades is not satisfied with getting the money Wilshire owed him. As Rhoades prepares to take his frustrations out on Noah, possibly to the point of death, Heather realizes that all her machinations to protect Noah are for nothing. Song from Princess Ida:
Helpless (ch 17)
Powerless, Heather can do nothing but watch as Rhoades has his vicarious fun. The music has been lost to this excerpt from Finale Act II of Thespis. Readers so inclined may visualize Rhoades as the first voice and Heather as the second:
Charlie chides Heather (ch 17)
Charlie, who has schemed to get himself planted in Rhoades' entourage, bluntly tells Heather that she has blundered terribly, All is not lost, however. Scene from H.M.S. Pinafore (MIDI file 1:32 – 2:41)
Glossary
Auricular: pertaining to the ear. Gilbert uses it as a synonym for an ear.
Banns: wedding announcements.
Baronet: The lowest of British hereditary titles, below a Baron ("Lord" in British parlance) and above a Knight
Bath bun: a pastry named for its place of origin, the town of Bath.
Bathing machine: a mobile booth where women could preserve decorum when changing into their bathing suits.
Brave: (archaic) noble. Use of the archaic meaning is especially common in The Yeomen of the Guard because that play is set in the Tudor period, but also appears at times in other G&S plays.
Chit: an impertinent woman, similar to a minx.
Clerk: pronounced "clark" in the British fashion.
Coster: short for costermonger, originally a person who sells small apples called costers, but later a seller of produce generally. Costermongers had a reputation for being brutish and ill-mannered.
Cot: short for "cottage".
Dear: expensive. This usage, while still extant, is no longer common.
Deuce: a euphemism for "devil"
Diskiver: (substandard): discover
Doing: (chiefly British) cheating. Gilbert also uses the better known (and more innocent) meaning in various places.
Fortalice: a small fort. The Tower of London is not exactly small, but Gilbert needed a rhyme for "hiss".
Hunter: a horse used for hunting.
Indite: dictate
Jim-jams: (slang) delerium tremens
Life preserver: a nonlethal weapon, now called a "blackjack".
Lower: threaten. Rhymes with "hour"
M.P.: Member of Parliament
Old Bailey: London's Central Criminal Court is commonly known as "The Old Bailey"
Pas de trois: a dance for three parts.
Peeler: (slang) policeman, after the reformer Robert Peel (1788-1850). "Bobby", also slang for a policeman, has the same origin.
Pipe-lights: matches.
Prithee: short for "I pray thee". The modern equivalent is "please", short for "if you please"
Quarter-day: the day quarterly rents are collected, so "as sure as a quarter-day" is equivalent to "as sure as death and taxes"
Patter: rapid speech. A "patter song" is therefore a song where the words themselves are less important than rapid delivery. Gilbert and Sullivan are credited with perfecting this form, which is a distinctive element of their style.
Recitative: essentially, operatic talk-singing. Recitatives tend to not be very tuneful, and may be in either rhymed or blank verse. Grand operas deliver substantially all dialogue in this style, whereas light (aka comic) operas such as the G&S plays most commonly use recitative to introduce a song.
Snuff: The charred part of a candlewick
Tar: (slang) a British sailor.
Tocsin: an alarm bell or other warning signal
Troth: promise
Trousseau: (French) a new bride's personal effects such as her wedding dress, jewelry, etc. Literally, "bundle".
Trow: believe
Undoing: (chiefly British) seducing, or bringing to ruin. Gilbert uses the former meaning in The Pirates of Penzance, and the latter in The Yeomen of the Guard. In still other places, he uses the more obvious meaning of "the opposite of 'doing'".
Watteau: Jean Antoine Watteau (1684-1721), a French painter of rustic scenes.
Whit: the smallest imaginable portion of something
Work'us: (substandard) workhouse, a.k.a. poorhouse.
Community content is available under
CC-BY-SA
unless otherwise noted.