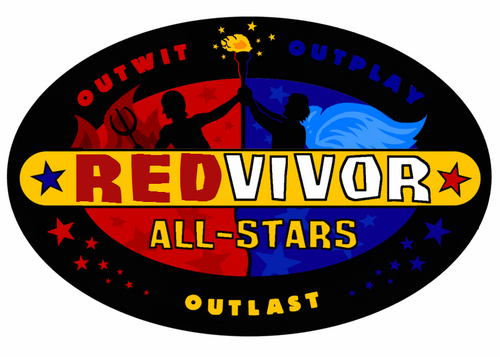 15 castaways from the previous six season return for one more shot at the title of Sole Redvivor! And it's a cluster.
Immunity Challenges
#
Challenge
Winner
Exile Island
Voted Out
1
Sandbags
Jala-Pãoah
Satan
Jack
Forçççaa
2
Musical Chairs
Jala-Pãoah
Mercy
Probst109
Forçççaa
3
Tug of War
Tim Burton
Matt
Marie1
4
Fruit Ninja
Tim Burton
Saison
Cole
5
Quitter
Satan
Numbers
Gia
Mercy
6
Temptations
Saison
Vince
7
Barrel Rolling
Marisa
Matt
8
House Bombings
Gia
Saison
9
Redvivor Auction
Marianne
Brenda
10
Hot Decapitated Head
Ezekiel
Gia
11
Fallen Comrades
Ezekiel
Phill
1 Marie was medically evacuated at Tribal Council, before any votes were read.
Contestant Tables
2 3 votes against Saison were nulled thanks to a hidden immunity idol.
~
Castaway
1
2
3
4
5
6
7
8
9
10
11
Ezekiel
Cole
Vince
Vince
Mercy
Vince
Saison
Saison
Brenda
Gia
Phill
W
Marianne
Jack
Probst
Mercy
Vince
Matt
Saison
Brenda
Marisa
Phill
RU
Marisa
Mercy
Vince
Saison
Saison
Brenda
Gia
Phill
2RU
Phill
Jack
Probst
Cole
Vince
Vince
Mercy
Vince
Matt
Saison
Brenda
Gia
Marianne
Ezekiel
Gia
Cole
Vince
Mercy
Vince
Matt
Saison
Marisa
Marisa
Marianne
Brenda
Jack
Probst
Mercy
Vince
Saison
Saison
Ezekiel
Ezekiel
Saison
EXILE
Vince
Phill
Phill
Brenda
Marianne
Matt
EXILE
Gia
Gia
Mercy
Phill
Phill
Ezekiel
Vince
Gia
Gia
Phill
Phill
Ezekiel
Mercy
EXILE
Vince
Marianne
Satan
EXILE
QUIT
Cole
Gia
Gia
Gia
Marie
Gia
EVAC
Probst
Phill
Phill
Jack
Phill
Memorable Moments
The AMAZING cast, with last minute auditions that totally delivered.
Me calling Jack's status as the first boot weeks in advance.
The running gag of Marie Antoinette's decapitated head.
Cole drawing the purple rock just like his love interest, Christine, in China.
Satan quitting because he made the merge and had nothing left to prove to the puny mortals remaining. (AKA O's brother actually decided to turn into Satan.)
The #BlindsideMercyAlliance that pretty much everyone knew about.
Stealth R Us 2.0 curb-stomping literally everyone.
Plan Voodoo being used against the minority of Matt and Saison.
Brenda's completely staged blindside.
Phill's failure to reach FTC so that Brenda could ask him to take off his shorts.
Marisa being amazing but still ignored in the final three.
The epic Ezekiel versus Marianne jury vote.
Marianne coming one vote short of becoming the first RP Sandra.
Ezekiel redeeming himself from being the lowest-placing returnee and winning the season.
The general clusterf**ky plotlines.
Returnees
Community content is available under
CC-BY-SA
unless otherwise noted.