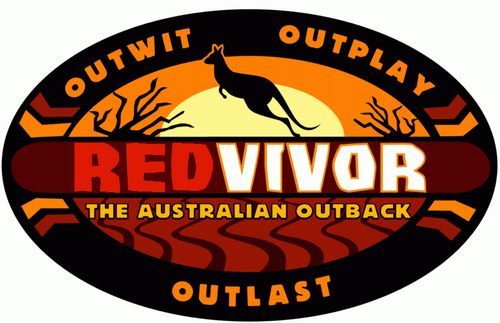 After 4 months of dormancy, Redvivor makes a triumphant return to the hearts of wiki users across the world! Fourteen castaways are stranded in the middle of the Australian Outback, and with a mysterious idol floating around the game, is anyone truly safe?
Immunity Challenges
#
Challenge
Winner
Sacred Idol
Voted Out
1
First Impressions
None
None
Myra
Gob
Quitter
Drew
Numbers
DudePerfect
Russell
YellowPikmin
2
Fruit Ninja
Angel, Brenda, Carter,
DudePerfect, Merudjina
Midge
OmegleMonster
3
Sandbags
Merudjina
Norwood
Slurpie
4
Redvivor Trivia
Brenda
Carter
Russell
5
Flags
Merudjina
Merudjina
Carter
6
Battleship
Brenda, DudePerfect,
Merudjina, Norwood
Angel
Midge
7
Quitter
Norwood
Ladder + Puzzle
Brenda
Merudjina
Contestant Tables
1 1 vote against Norwood was nulled thanks to the sacred idol.
2 3 votes against Angel were nulled thanks to the sacred idol.
~
Castaway
1
2
3
4
5
6
7
Brenda
Slurpie
Yellow
Slurpie
Slurpie
Russell
Carter
Angel
Angel
Merudjina
Winner
Angel
Myra
Yellow
Omegle
Slurpie
Russell
Brenda
Midge★
Merudjina
RU
DudePerfect
Myra
Yellow
Omegle
Slurpie
Merudjina
Brenda
Midge
Merudjina
Merudjina
2RU
Merudjina
Myra
Yellow
Slurpie
Russell
Russell
Carter★
Angel
Angel
Angel
Norwood
Myra
Slurpie
Russell
Russell★
Russell
Brenda
Midge
QUIT
Brenda
Midge
Myra
Yellow
Omegle★
Norwood
Russell
Carter
Angel
Brenda
Carter
Angel
Omegle
Omegle
Slurpie
Merudjina★
Norwood
Brenda
Russell
Yellow
Yellow★
Omegle
Slurpie
Merudjina
N/A
Slurpie
Myra
Yellow
Russell
Russell
Brenda
Omegle
Myra
Yellow
Russell
Yellow
Gob
Slurpie
Drew
Myra
QUIT
Gob
Omegle
Myra
Gob
★ Represents that this castaway held the Sacred Idol, which gave them immunity and doubled their vote for that tribal Council.
Memorable Moments
Brenda winning the final immunity challenge when she was slated to be the next to go.
Drew rage quitting because he couldn't fulfill his odd sexual desires on the show.
DudePerfect and Angel's showmance.
Russell Hantz's blindside.
The Sacred Idol being a sub-par twist that didn't have much affect on the game.
Midge getting screwed at the final six due to being the only one without immunity.
Returnees
Community content is available under
CC-BY-SA
unless otherwise noted.