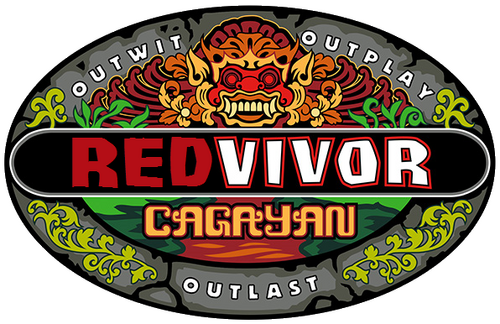 11 of the shoddiest casting choices in Redvivor history return to where it all began to compete against each other in a battle of wits... while armed with everything but.
Immunity Challenges
#
Challenge
Winner
Voted Out
1
C4
Quezon
Anna
2
Quitter
Selena
Unscrambling
Quezon
Caryn
3
*Brawls*
Quezon
Michelle
4
Merged Name
Nick
ThinKing
5
Hot Potato
Anna
Donald
6
Sandbags
Liz
Marco
7
Chain Reaction
Liz
LyricBot
8
Evacuated
Anna
Recollection
Liz
Nadiya
Contestant Tables
Castaway
Original Tribe
Merged Tribe
Voted Out
Fountain
of Youth
Total Votes
AnnaKhait
Returned
Manila
1st Voted Out
Day 3
Picked Chalice C
Returned
8
SelenaGomez
XxLucinaFTWxX
Quezon
Quit
Day 6
0
CarynGroedel
Izzynoah12
Manila
2nd Voted Out
Day 6
Picked Chalice B
Eliminated
4
MichelleYi
OstianWendy
Manila
3rd Voted Out
Day 9
Picked Chalice C
Eliminated
3
ThinKing
EnTrey
Quezon
Grahame
4th Voted Out
Day 12
Gave Chalice
to Marco
7
realDonaldTrump
NateNJ14
Quezon
5th Voted Out
Day 15
Gave Chalice
to Marco
5
MarcoRubio
Thebiggesttdifan
Quezon
6th Voted Out
Day 18
Gave Chalice
to Liz
6
LyricBot
Prince Blake
Quezon
7th Voted Out
Day 21
5
AnnaKhait
XAudaciousX
Manila
Evacuated
Day 22
8
NadiyaAnderson
GhostNoises
Manila
8th Voted Out
Day 23
10
NickMaiorano
Owenandheatherfan
Manila
Runner-Up
Day 24
4
LizMarkham
1dra7
Manila
Sole Redvivor
Day 24
4
~
Castaway
1
2
3
4
5
6
7
8
Liz
FOY
Caryn
Michelle
ThinKing
ThinKing
Donald1
Marco
Lyric
Nadiya
W
Nick
Anna
Caryn
Michelle
ThinKing
ThinKing
Liz
Marco
Lyric
RU
Nadiya
Anna
Caryn
Anna
ThinKing
Donald
Marco1,1
Lyric
Nick
Anna
Caryn
FOY
Michelle
Nadiya
Nadiya
Donald
Marco
Nick
EVAC
Lyric
Anna
ThinKing
Donald
Marco
Nick1
Liz
Marco
Nadiya
Nadiya
Donald
Nick
Liz
Donald
Nadiya
ThinKing
Marco
Liz
ThinKing
Anna
Nick
Michelle
Anna
Liz
Anna
Caryn
Anna
Nick
Selena
QUIT
1 This player incurred two penalty votes after a chalice was played on them.
Memorable Moments
The kind of sub-par cast that led to an actually pretty twisted and memorable RP.
Half the cast being made up of WC users.
So many people playing Survivor characters that I made it the season's initial twist.
The triumphant return of the Fountain of Youth and Chalice twists.
Anna being voted out first, only to be immediately revived at the Fountain of Youth and returning to the game as an out of character, overly confrontational creature of the night.
ThinKing being neither thin nor a king, and having zero personality due to his constant thinking.
Nate playing some incarnation of Donald Trump for the second Redvivor in a row.
Liz being a literal robot and frequently malfunctioning.
Nick being a vain douchebag who constantly flexed his muscles, slicked back his hair, and acted arrogant (but at least he KNEW that about himself).
Nick being potentially the most accurate Survivor parody ever.
Nadiya and Anna's constant feud threatening the security of the post-merge Manila alliance.
Redvivor Fun Fact: In this game, Nadiya, played by GhostNosies, was voted out in 3rd place. Rewind to a few months prior, where Natalie, Nadiya's twin sister played by Bruno, was voted out to become the 3rd place finisher of Ovivor: Ethiopia. Now, who voted Natalie out?
Marco and Donald's ongoing feud, featuring Donald's constant reference to Rubio as "little Marco".
Marco having two chalices at the final six and still managing to fuck it up.
Liz playing a chalice on herself and nearly sending herself home as a result.
Liz being sniped by the spam filter twice during the hot potato challenge.
Liz winning sandbags with four bags versus Anna's two.
Anna being a raging bitch the entire game, only to wind up being medically evacuated at the final four.
Michelle's blindside at the hands of a strategically inept Anna.
Dra winning Redvivor for the third time and the utter disgust that now plagues Reddy's opinion of him.
Nick being ridiculously robbed of his rightful Redvivor win.
Returnees
Community content is available under
CC-BY-SA
unless otherwise noted.