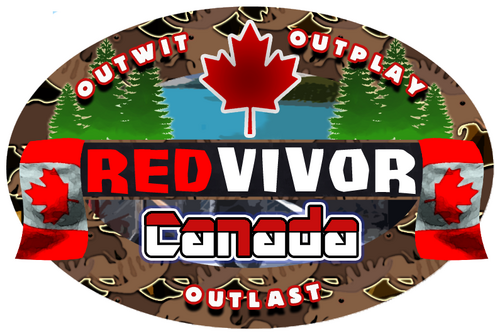 Fifteen brand new castaways trek into the Canadian wilderness for Redvivor's groundbreaking new season. Split into three tribes and faced with evolved challenges, insane compatriots, and generational conflict, just who will survive to claim the title of Sole Redvivor?
And to top it all off: the RP world's very first (and hopefully only) super idol goes off like a loaded gun.
Immunity Challenges
#
Challenge
Winner
Voted Out
1
Flag Bringing
Wade
Kim
Jepsen
2
Redvivor Jeopardy
Wade
Kappa
Pam
3
C4
Trudeau
Tommy
Wade
4
Alphabet Soup
Jepsen
Matilda
Trudeau
5
Merged Name
SJWario
Olenna
6
Number GIFs/Endurance
SJWario
K'nuckles
7
Redvivor Auction
Debbie
Deathrine
8
Sandbags
Angie
SJWario
9
Hot Potato
Woo
Angie
10
Chain Reaction
Debbie
Woo
11
Code Combos
Debbie1
Brook
1 Debbie was given immunity by Brook.
Contestant Tables
Castaway
Original Tribe
Merged Tribe
Voted Out
Total Votes
KimHyoyeon
OstianWendy
Trudeau
Died
Day 3
0
KappaLULMan69
Death WarMachine
Jepsen
1st Voted Out
Day 6
4
Pam
Sunslicer2
Trudeau
2nd Voted Out
Day 6
3
TommyWiseau
Ben109
Jepsen
3rd Voted Out
Day 9
3
Matilda
Thebiggesttdifan
Wade
4th Voted Out
Day 12
4
OlennaTyrell
Nduke
Trudeau
IT'S WARIO
TIME!
5th Voted Out
Day 15
7
CaptainK'nuckles
NateNJ14
Jepsen
6th Voted Out
Day 18
9
DeathrineDarksou
BrunoSomebody
Wade
7th Voted Out
Day 21
7
SJWario
EnTrey
Trudeau
8th Voted Out
Day 24
4
AngieLayton
XAudaciousX
Trudeau
9th Voted Out
Day 27
8
WooHwang
1dra7
Wade
10th Voted Out
Day 30
52
BrookSoso
Owenandheatherfan
Jepsen
11th Voted Out
Day 32
4
JoeDelCampo
Mister.. E.
Jepsen
2nd Runner-Up
Day 33
5
DebbieWanner
Toadgamer80
Wade
Runner-Up
Day 33
0
JonSnow
Muffine
Wade
Sole Redvivor
Day 33
1
2 4 votes against Woo were nulled thanks to a hidden immunity idol.
~
Castaway
1
2
3
4
5
6
7
8
9
10
11
Jon
Matilda
Olenna
K'nuckles
Death
Wario
Angie
Woo
Brook
Winner
Debbie
Matilda
Olenna
K'nuckles
Death
Woo
Angie
Woo
Brook
RU
Joe
Kappa
Tommy
Olenna
K'nuckles
Death
Woo
Angie
Woo
Brook
2RU
Brook
Kappa
Tommy
Olenna
K'nuckles
Death
Woo
Angie
Woo
Jon
Jon
Woo
Matilda
Olenna
K'nuckles
Death
Wario
Joe
Joe
Jon
Angie
Pam
K'nuckles
K'nuckles
Death
Wario
Joe3
Debbie
Wario
Pam
K'nuckles
Angie
Death
Woo
Debbie
Death
Matilda
Olenna
Angie
Angie
Jon
K'nuckles
Kappa
Tommy
Olenna
Angie
Jon
Olenna
Pam
K'nuckles
Jon
Matilda
Woo
Tommy
Kappa
Brook
Pam
Wario
Kappa
Joe
Kim
EVAC
3 Angie used the double-vote pen, making her vote count as two.
Memorable Moments
Waaa...
The stellar cast as per the usual~
The three evenly-matched tribes trading blows all the way up to the merge.
Kim saying around one sentence before dying off.
Pam listening to an enigmatic 'Map' and constantly changing Trudeau's tribe color to beige instead of white, much to Reddy Probst's frustration.
Tommy Wiseau being Tommy Wiseau with all of his glorious logic, worldly advice and wisdom.
Matilda leading a charge against Woo and the younger generation in general, only to be promptly voted out. Also, very few people realizing who she actually was.
Social Justice Wario calling people out on being problematic throughout the RP.
Captain K'nuckles becoming disenchanted with the game due to his quest to find Candied Island.
Deathrine constantly seeking out death and claiming to be 'so happy' despite her perpetual lack of emotion. Also, her merged tribe name suggestion: Pain, Death, Tears, Suffering.
Dumb blonde Angie coming in clutch by winning the final tribal immunity challenge for her tribe and sending the Wade tribe to their very first Tribal Council.
Debbie's frequently mentioned professions and generally spot-on Debbie-isms.
Joe buying a ton of beef at the auction and the resulting gastrointestinal distress.
Debbie & Joe's old people alliance.
Woo: does six backflips in a row followed by a handstand and a perfect split
Brook marching to the beat of her own drum for pretty much the entire game, with her hippish style, nudity, veganism, passive resistance and perplexing Benadryl fixation.
Jon attempting to change his vote during at the final six... while the votes were being read.
Woo managing to assemble the very first super idol in RP history and using it to save himself, resulting in fan-favorite SJWario's unceremonious elimination and the various reactions on wiki chat.
Everyone giving up on trying to find the normal hidden immunity after Woo played his, due to believing that was the only idol in the game.
Brook giving up the final immunity necklace in order to save Debbie, believing she was a target when she actually wasn't, and as a result being voted out herself. Bonus points for this actually not being one of OHF's self-engineered blindsides.
Nate not playing a politician.
Muff winning his very first RP ever after only playing in one other RP beforehand.
Toad's return to his usual "female finalist with zero votes against her" trope.
Dra blatantly admitting that he was playing to get 0 jury votes in the end.
Reddy Probst begging people to be more original than playing Survivor characters and roughly a third of the cast ignoring him and doing so anyways.
Returnees
Community content is available under
CC-BY-SA
unless otherwise noted.