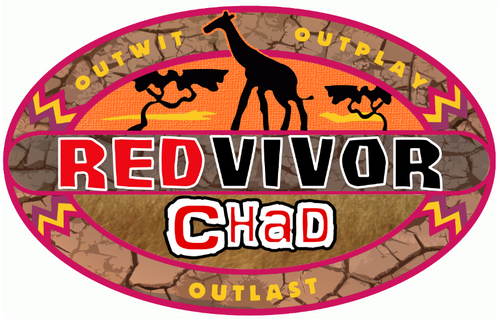 Deep near the heart of Africa, twelve new Redvivor castaways have been marooned in a desolate, unforgiving land torn apart by both war and nature: Chad. Honesty, Deception, Neutrality and hive-minds abound, who will come out on top?
Immunity Challenges
#
Challenge
Winner
Voted Out
1
C4
Borkoops
Fletcher
2
Redvivor Trivia Tug o' War
Borkoops
Unpredictable
3
Code Combos
Cathy
TwilightFan1
Makoto
PetitionRedvivor
4
Merged Name
So
Makoto
5
Musical Chairs
Carolyn
So
6
Social Pyramid
Cathy
Seinfeld
7
Sandbags
Carolyn
Shirin
8
Endurance
Carolyn
Cathy
1 Due to being the only person on his tribe without immunity, TwilightFan was automatically eliminated.
Contestant Tables
Castaway
Original Tribe
Post-Mutiny
Merged Tribe
Voted Out
Total Votes
Fletcher
Avery FireFlame
Kanem
1st Voted Out
Day 3
4
Unpredictable
KvngDragon
Kanem
2nd Voted Out
Day 6
4
TwilightFan
Sunslicer2
Borkoops
Borkoops
Eliminated
Day 9
0
PetitionRedvivor
SpaceWeather
Kanem
Kanem
3rd Voted Out
Day 9
4
Makoto
Ginga Ninja Jack
Kanem
Kanem
So Long
4th Voted Out
Day 12
5
So Kim
Owenandheatherfan
Borkoops
Kanem
5th Voted Out
Day 15
7
Seinfeld
EnTrey
Borkoops
Kanem
6th Voted Out
Day 18
64
Shirin
BrunoSomebody
Kanem
Kanem
7th Voted Out
Day 21
7
Cathy
Nduke
Borkoops
Borkoops
8th Voted Out
Day 23
42
Leah
GhostNoises
Borkoops
Kanem
Co-Runner-Up
Day 24
4
Brock
Ashley Hikari
Kanem
Kanem
Co-Runner-Up
Day 24
1
Carolyn
1dra7
Borkoops
Kanem
Sole Redvivor
Day 24
73
2 Fletcher voted for Cathy, a member of the other tribe, and thus one vote against Cathy did not count.
3 3 votes against Carolyn were nulled thanks to a hidden immunity idol.
4 1 vote against Seinfeld was nulled thanks to a hidden immunity idol.
~
Castaway
1
2
3
4
5
6
7
8
Carolyn
Petition
Makoto
Shirin
Leah
Seinfeld
Shirin
Cathy
W
Brock
Fletcher
Unpred
Petition
Makoto
Leah
So
Seinfeld
Seinfeld
Shirin
Cathy
CRU
Leah
Petition
Makoto
So
Seinfeld
Seinfeld
Shirin
Cathy
CRU
Cathy
Won
Makoto
So
So
Carolyn
Seinfeld
Shirin
Brock
Carolyn
Shirin
Fletcher
Unpred
Petition
Carolyn
So
So
Carolyn
Carolyn
Cathy
Carolyn
Seinfeld
Carolyn
Carolyn
Leah
So
Carolyn
Brock
So
Seinfeld
Makoto
Leah
Leah
Makoto
Fletcher
Unpred
Carolyn
Carolyn
Carolyn
Petition
Shirin
Unpred
Carolyn
Twilight
Lost
Unpred
Fletcher
Shirin
Fletcher
Cathy
Memorable Moments
Most of the cast being fairly accurate and great.
The Honesty vs Deception twist at the beginning of the game, where Carolyn and So chose Deception (giving them each a first-tribal-only idol) and Shirin and Brock chose Honesty, giving their tribe an advantage in the first immunity challenge.
So's blatant lie about their being a Neutrality box at the twist and everyone seeing right through her. No clue why, I mean, they had no way of knowing...
Kanem losing the first challenge in spite of their advantage.
All three white-collar women competing and actually playing out similarly to who they actually did on Survivor. Also the fact that they constantly tried to blow up each other's games.
Cathy giving everyone completely random names and everyone becoming hopelessly confused.
PetitionRedvivor being angry and cynical.
Fletcher voting for Cathy, a member of the other tribe, at the first Tribal Council.
Seinfeld being actually pretty funny.
The mutiny where So mounted an invasion of the Kanem tribe, leaving TwilightFan and Cathy all alone.
TwilightFan being automatically eliminated when Cathy won immunity.
So and Carolyn's idols finally coming out, in addition to two fake idols from So causing massive confusion only to make no difference whatsoever when PetitionRedvivor still went home.
Cathy flipping on Seinfeld and Shirin, and the ensuing hive-mind that followed.
So and Seinfeld voting for Leah and Brock during the jury vote, respectively, so that one would get second place over the other. That worked well.
The Redvivor Winner Curse being broken and the social ostracism inflicted upon Ashley and Dylan as a result.
Returnees
Community content is available under
CC-BY-SA
unless otherwise noted.