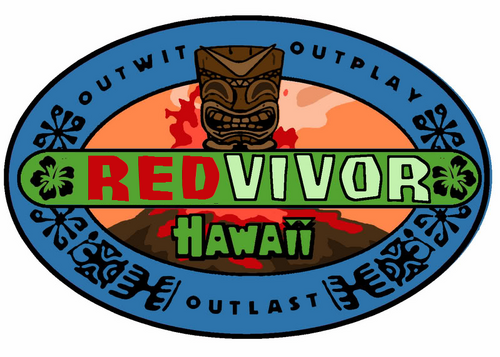 It's back, but can it get any better? Spoiler alert: yes.
Immunity Challenges
#
Challenge
Winner
Voted Out
1
*Brawls*
Lihue
Betsy
2
Hot Potato
Lihue
Ezekiel
3
Died
Lady Macbeth
Musical Chairs
Tristan
Nickelback
Kat
4
Sandbags
Jack
Tristan
5
Zipline Equations
Jack
Ines
6
Redvivor Trivia
Marisa
Gillian
7
Recollection
WhiterunGuard
Marisa
Contestant Tables
1 1 vote against Gillian was nulled thanks to a hidden immunity idol.
2 Jack voted for himself while he had immunity, and thus one vote against Jack did not count.
3 Jack voted for Marisa while she had immunity, and thus one vote against Marisa did not count.
~
Castaway
1
2
3
4
5
6
7
Marianne
Betsy
Ezekiel
Nickelback
Tristan
Ines
Gillian
Marisa
W
Jack
Nickelback
Jack
Ines
Marisa
Marisa
RU
WhiterunGuard
Betsy
Kat
Nickelback
Tristan
Ines
Gillian
Marisa
2RU
Marisa
Gillian
Tristan
Ines
Gillian
Jack
Marianne
Gillian
Kat
Tristan
Ines
Jack
WhiterunGuard
Ines
Betsy
Ezekiel
Nickelback
Tristan
Gillian
Marianne
Tristan
Ines
Ines
Jack
Kat
Ezekiel
Ezekiel
Nickelback
Jack
Nickelback
Kat
Marianne
Lady Macbeth
DIED
Ezekiel
Betsy
Kat
Betsy
Ines
Memorable Moments
The amazing cast full of colorful characters.
Marianne being the last member of Kahului left in the Hot Potato challenge against five Lihue, but still managing to reduce the tribe to two members left before being eliminated.
The Ezekiel vs. Kat conflict that was amazing.
Gillian finding the idol and trying to get people to vote her off yet only one person (Marisa) voted for her.
Ines' blindside by her former tribemates.
Jack coming in clueless about how our roleplays worked yet coming within one vote of winning.
The long-as-Hell Final Tribal where the jury tore into the final three.
Returnees
Community content is available under
CC-BY-SA
unless otherwise noted.