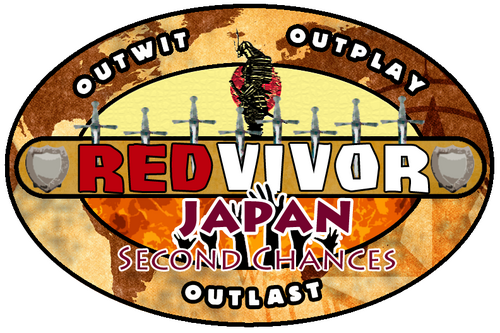 15 previous Redvivor castaways rise from the ashes of their failure for a second shot at winning it all. In a season filled with intense drama and betrayal, the series' second full-returnee cast is left with only one choice: kill or be killed.
Immunity Challenges
| # | Challenge | Winner | Voted Out |
| --- | --- | --- | --- |
| 1 | Redvivor - The Movie | Eiko | Dr. Spaceman |
| 2 | *Brawls* | Eiko | Taylor |
| 3 | Unscrambling | Shokan | Toph |
| 4 | Equations | Shokan | Lightning |
| 5 | N/A | Shokan1 | IsterMe |
| 6 | Merged Name | Jaxdrown | Christine |
| 7 | Musical Chairs | Tinsley2 | ApocalypseMeow |
| 8 | Code Combos | Gloria | Fig |
| 9 | Sandbags | Sarah | Cathy |
| 10 | Social Pyramid | Midge + Sarah | Shirin |
| 11 | Prior Seasons | Midge | Sarah |
| 12 | C4 | Midge | Tinsley |
| 13 | Recollection | Jaxdrown | Gloria |
1 Eiko forfeited the immunity challenge to Shokan.
2 Tinsley was given immunity by Fig.
Contestant Tables
~
Castaway
1
2
3
4
5
6
7
8
9
10
11
12
13
Midge
Spaceman
Taylor
Christine
Fig
Fig
Gloria
Gloria
Gloria
Gloria
W
Jax
Toph
Lightning
Lightning
IsterMe
Fig
Apoc
Fig
Cathy
Shirin
Sarah
Tinsley
Gloria
RU
Gloria
Toph
Christine
Christine
Christine
Fig
Apoc
Fig
Cathy
Shirin
Sarah
Tinsley
Jax
Tinsley
Spaceman
Apoc
Christine
Shirin
Fig
Cathy
Shirin
Sarah
Jax
Midge
Sarah
EXILE
Taylor
Christine
Shirin
Fig
Gloria
Gloria
Gloria
Midge
Shirin
Toph
Lightning
Lightning
IsterMe
Fig
Apoc
Fig
Cathy
Tinsley
Jax
Cathy
Taylor
Taylor
Christine
Apoc
Fig
Gloria
Midge
Fig
Spaceman
Taylor
Christine
Shirin
Shirin
Jax
Apoc
Tinsley
Taylor
Christine
Fig
Midge
Christine
Toph
Lightning
IsterMe
Fig
IsterMe
Toph
Christine
Lightning
Christine
Lightning
Toph
Christine
Toph
Shirin
Taylor
Spaceman
Apoc
Spaceman
Taylor
Memorable Moments
Dr. Spaceman and Taylor's feud, causing them both to be voted out first.
Dr. Spaceman stealing Taylor's uterus.
Tinsley returning as a much more vocal elitist, coming off as much more entitled and enslaving Fig in the process. Then somehow making it to the final four again, despite being on the outside of her tribe after Taylor's was voted out.
Toph and Lightning's feud over Toph calling Lightning Thunder.
Fig brutally betraying his ally, Taylor, devastating Jaxdrown and causing drama outside the game.
IsterMe betraying his friend Lightning to avoid drawing rocks.
The Eiko tribe complaining about how they didn't want to vote anyone off after losing for a second time, then subsequently forfeiting the fifth immunity challenge at Gloria's suggestion.
Gloria returning and managing to dominate even without her Spanish Harlem alliance.
Gloria: *slams butcher knife*
The underdog alliance of Gloria, Shirin, Jaxdrown, and Christine.
Christine being a constant target despite her cheery attitude.
Dra and Toad both failing to make the jury...
The heartbreaking elimination of ApocalypseMeow, whose master plan was working fine until it was foiled by those rotten kids. Hiss.
Shirin's internal strife over voting out ApocalypseMeow.
Tinsley constant tirades about the poor people banding together to discriminate against the rich.
Cathy grading the other castaways on their gameplay throughout the season.
Shirin being like a bomb, but in reverse.
Sarah and Midge's underdog friendship late in the game, and the two winning immunity together, forcing the majority alliance to cannibalize itself.
Gloria constantly coming out on top of narrow votes.
Midge's out-of-nowhere immunity run which brought her to the final three.
Jaxdrown winning the intense final immunity challenge after sitting back and being a queen all season, then choosing to betray his closest ally Gloria in favor of facing Midge in the end.
Midge winning the season after being screwed by the Sacred Idol in Australia.
Pretty much every pre-merger demanding an Outcasts twist upon being voted out.
Returnees
Community content is available under
CC-BY-SA
unless otherwise noted.