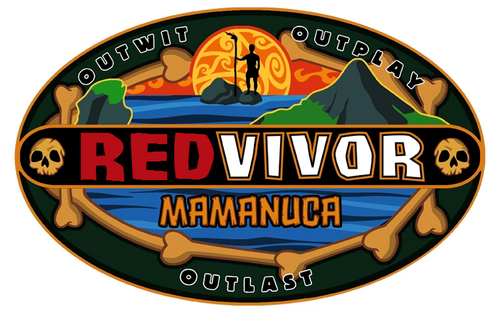 After a 9-month hiatus, Redvivor returns with eleven all-new castaways vying for a spot in the coveted Redvivor's Winner Circle! Marooned in the Mamanuca Islands of Fiji, friction between the castaways is in abundant supply. Who among them will survive the drama, the advantages, and all the general tomfoolery to claim the title?
Immunity Challenges
| # | Challenge | Winner | Voted Out |
| --- | --- | --- | --- |
| 1 | C4 | Vomo | Eve |
| 2 | *Brawls* | Malolo | Nikky |
| 3 | Redvivor Trivia | Vomo | Kim |
| 4 | Merged Tribe Name | Hunter | Ika |
| 5 | Code Combos | Sharon | Marty |
| 6 | Coconut Chop | Rocket | Dre |
| 7 | Sandbags | Randy | Rocket |
| 8 | Recollection | Hunter | Sharon |
Contestant Tables
Castaway
Original Tribe
Merged Tribe
Voted Out
Total Votes
EveIII
Jaxswim
Malolo
1st Voted Out
Day 3
4
NikkyD
NateNJ14
Vomo
Drowned
Day 6
0
KimChi
Owenandheatherfan
Malolo
2nd Voted Out
Day 9
4
IkaWong
Nduke
Malolo
Mama Nuca's
Children
3rd Voted Out
Day 12
3
MartyBinLaden
EnTrey
Vomo
4th Voted Out
Day 15
61
DreGwenaelle
That Epic
Malolo
5th Voted Out
Day 18
10
RocketRaccoon
Shadowgeoff
Vomo
6th Voted Out
Day 21
5
SharonLubinstein
Sunslicer2
Malolo
7th Voted Out
Day 23
5
RandyJackson
Thebiggesttdifan
Malolo
Co-Runner-Up
Day 24
3
HunterH
COKEMAN11
Vomo
Co-Runner-Up
Day 24
1
HornyWidow
BrunoSomebody
Vomo
Sole Redvivor
Day 24
2
1 3 votes against Marty were nulled thanks to a hidden immunity idol.
---

* Sharon stole Rocket's vote this round, using it against him.
Memorable Moments
The quirky yet ultimately pretty great cast.
The cast taking nearly an hour to vote on who would be selected to complete a task.
Randy putting everyone he couldn't stand on one tribe, and subsequently winding up on that tribe.
Eve's apparently diabolical story line that was cut short by her being voted out first.
Nikky drowning during the brawling challenge after Nate disappeared for good.
KimChi's obsession with food and mentioning it at every given opportunity.
ReddyProbst just throwing a bunch of twists in at the merge.
Ika being a domineering bitch pre-merge only to fall immediately after the merge.
Marty idoling Ika out and talking about how he was "blowing up her skyscraper".
Dre breakdown and screaming at Hunter/Marty, in spite of Hunter being with her.
Also: Dre twerking on her way out of the game.
The Coconut Chop challenge #exposing Rocket's superior social game, leading both Sharon and Hunter to use their advantages against him at the final five vote to insure his elimination.
Rocket's negative attitude and affinity for firearms.
Sharon's running gag of having a new pet every so often, as the resident pet thief.
HornyWidow constantly talking about her dead husband and how lonely she is.
Randy turning HornyWidow into a star with her singles My Husband is Dead and Remarry (I Don't Wanna).
Hunter's struggling with the morality of the game and slowly losing his wits as it progressed.
HornyWidow's shocking upset against Sharon during the firemaking tiebreaker.
Bruno finally winning Redvivor after many failures and close encounters.
Returnees
Community content is available under
CC-BY-SA
unless otherwise noted.