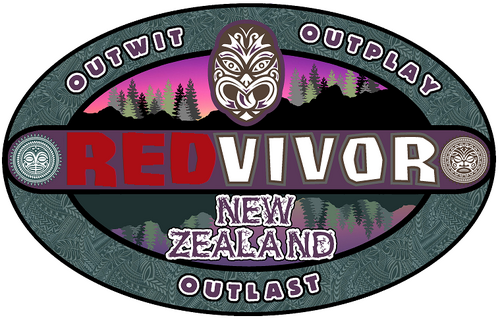 (Credit to Owenandheatherfan for the logo.)
After a 4-month break, Redvivor comes rearing back full-force! With 13 new and exciting characters, and overabundance of teen-drama influence, Redvivor returns with one of its most emotional seasons yet.
Immunity Challenges
#
Challenge
Winner
Voted Out
1
Redvivor Trivia
Mana
AnotherBitch
2
Unscrambling
Mana
Neville
3
Backwards Cursive
Mana
John
4
C4
Mana
DanNicky
5
Merged Name
Kimmi
Chanel
6
Evacuated
Pengai
Musical Chairs
Ciera
Angelica
7
Redvivor Auction
Kimmi
Ciera
8
Sandbags
Kimmi
Rupert
9
Fortress
Tronald
Millicent
Contestant Tables
Castaway
Original Tribe
Swapped Tribe
Merged Tribe
Voted Out
Total Votes
AnotherBitch
Rhonda the stalker fan!
Whakapapa
1st Voted Out
Day 3
6
NevilleLandless
That Epic
Whakapapa
2nd Voted Out
Day 6
5
JohnDalton
EnTrey
Whakapapa
Whakapapa
3rd Voted Out
Day 9
3
DanNicky
Owenandheatherfan
Whakapapa
Whakapapa
4th Voted Out
Day 12
4
ChanelOberlin
Jaxswim
Whakapapa
Mana
The
Kappening
5th Voted Out
Day 15
9
Pengai
Mroddy
Mana
Whakapapa
Evacuated
Day 17
2
AngelicaTuring
COKEMAN11
Whakapapa
Whakapapa
6th Voted Out
Day 18
11
CieraEastin
Nduke
Mana
Mana
7th Voted Out
Day 21
5
RupertBoneham
Toadgamer80
Mana
Whakapapa
8th Voted Out
Day 24
31
Millicent
Ashley Hikari
Whakapapa
Mana
9th Voted Out
Day 26
5
KimmiKappenberg
1dra7
Mana
Mana
2nd Runner-Up
Day 27
1
TronaldDump
NateNJ14
Mana
Mana
Runner-Up
Day 27
2
Dril
Thebiggesttdifan
Mana
Whakapapa
Sole Redvivor
Day 27
2
1 2 votes against Rupert were nulled thanks to a hidden immunity idol.
~
Castaway
1
2
3
4
5
6
7
8
9
Dril
John
Angelica
Angelica
Chanel
Kimmi
Ciera
Tronald
Millie
W
Tronald
Millie
Angelica
Ciera
Rupert
Millie
RU
Kimmi
Millie
Angelica
Ciera
Rupert
Millie
2RU
Millie
EXILE
Neville
Chanel
Angelica
Rupert
Rupert
Dril
Dril
Rupert
Angelica
Angelica
Dan
Chanel
Angelica
Ciera
Tronald
Dril
Ciera
Chanel
Angelica
Rupert
Tronald
Angelica
Bitch
Bitch
Neville
John
Dan
Ciera
Dril
Dril
Pengai
EXILE
Dan
Dan
Chanel
EVAC
Chanel
Bitch
Neville
Pengai
Dril
Dan
Bitch
Bitch
Neville
John
Pengai
John
Chanel
Bitch
Neville
Angelica
Neville
Chanel
Chanel
Angelica
Bitch
Chanel
Memorable Moments
The pretty amazing cast!
The godly pre-merge and strategically intense post-merge.
AnotherBitch being just another bitch who feuded with Chanel, the head bitch.
Chanel assembling The Chanels alliance, naming all of the members after herself.
John Dalton, father of modern chemistry, being confused for Jonny Fairplay.
Whakapapa losing every single challenge.
Dril's comedy.
Millicent constantly fainting throughout the game.
Dan speaking in comments from Nicki Minaj's instagram.
Angelica repeatedly showing up in people's PMs and killing herself. Cweepy.
Angelica attempting to get her tribe to forfeit the challenge so they could go to Tribal and vote out Dan, only to be stopped by one menace: Dril. (Spoiler Alert: They lost anyways...)
Ciera and Pengai turning on Chanel for her mistreatment of them.
The merge picnic where Millicent, of all people, found the idol.
The intense merge vote that saw the collapse of Chanel's game.
Pengai's tragic medical evacuation caused by an eternal disconnect.
Rupert giving sage advice about the game of Survivor and talking about his wife, Laura.
Ciera pleading with him to stop talking about her mom sexually.
Ciera pleading with Millicent to use the idol on her, only for Millicent to use it on herself instead, thanks to Kimmi's persuasion.
The subsequent blindside.
"So much for my dreams."
Millicent entering the game late but eventually being taken out as a jury threat.
Kimmi dominating strategically yet still not getting any jury votes.
Tronald and Rupert's comedic debates over Libertarianism.
Tronald somehow making it all the way to second place.
Dril defying all logic and winning the season.
Returnees
Community content is available under
CC-BY-SA
unless otherwise noted.