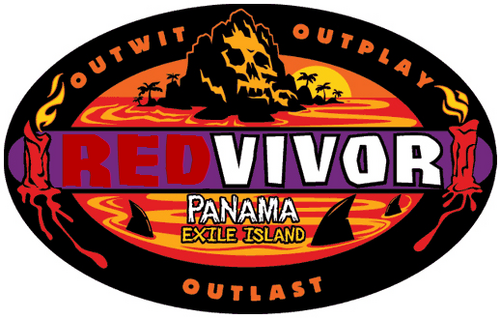 In Redvivor's debut season in the The Philippines, nine castaways embarked on the most thrilling adventure ever... *flashback to the castaways being marooned in the Philippines* There were heroes... *Marco is shown winning immunity* Villains... *Satan cackles evilly in the confessional* And truly unforgettable moments... *Luna breaks down at the final four*...
Now, Redvivor is back for yet another go. Deep in the jungles of Panama, 10 castaways are about to endure the game loved by many, but conquered by few. And not only will they be fighting against the other castaways, they'll also be fighting against the game itself. Each week, one castaway will be banished to isolation on Exile Island. There, they will be able to look for clues to a Hidden Immunity Idol, which has the power to nullify all votes cast against a person at any Tribal Council of their choice. However, once the idol is found, new, less-than favorable things will be hidden at Exile. For the ghost of the island isn't too kind when it comes to people taking her precious idols...
Immunity Challenges
#
Challenge
Immunity
Exile Island
Voted Out
1
Battleship
Ric + Riley
Stewart
Taylor
2
Sandbags
Saison
Gia
Ric
3
Tournament
Stewart
Mary
Phill
4
Mafia
Riley
Gia
Town Crier
5
House Bombings
Gia1
Stewart
Riley
6
Trivia
Mary
Dr. Spaceman
7
Entrapment
Gia
Saison
1 Gia was given immunity by Stewart.
Contestant Tables
2 2 votes against Dr. Spaceman were nulled thanks to a hidden immunity idol.
~
Castaway
1
2
3
4
5
6
7
Jury Votes
Gia
Saison
EXILE
Phill
EXILE
Spaceman
Spaceman3
Saison
Winner
Stewart
EXILE
Spaceman
Phill
Crier
EXILE
Spaceman4
Saison
RU
Mary
Taylor
Ric
EXILE
Crier
Riley
Spaceman
Saison
2RU
Gia
Saison
Taylor
Ric
Phill
Crier
Riley
Spaceman
Stewart
Stewart
Spaceman
Taylor
Ric
Phill
Crier
Riley
Gia
Stewart
Riley
Saison
Crier
Phill
Spaceman
Spaceman
Gia
Crier
Taylor
Phill
Phill
Spaceman
Gia
Phill
Taylor
Ric
Riley
Mary
Ric
Phill
Phill
Taylor
Phill
3 Gia played a phony idol, resulting in her receiving one penalty vote.
4 Stewart used the double-vote pen, making his vote count as two.
Edgic
Credit to CK
Memorable Moments
The OTT cast as a whole.
The dysfunctions of the 'Stealth R Us' alliance.
Town Crier going against Stealth R Us on multiple occasions.
The Exile Island twist playing a fairly important role with the cast.
Mary coming very close to winning the season.
Gia and Saison's conflict reaching its peak at the FTC.
Gia playing her Phony Idol, calling the game rigged, surviving, and then ultimately winning anyway.
The initial 2-2-1 jury vote in all its hectic glory.
Returnees
Community content is available under
CC-BY-SA
unless otherwise noted.