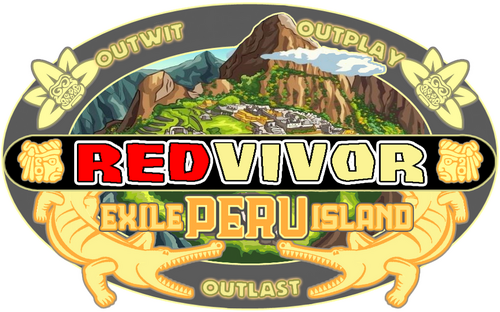 It's back-to-basics here on Redvivor as 9 all-new castaways take on the harsh Peruvian wilderness. Lies, deceit, and A murderer in the mix-- who will come out on top?
Immunity Challenges
#
Challenge
Winner
Exile Island
Voted Out
1
Backwards Cursive
PrettyLittleLiar
Hayley
Cuddles
2
Redvivor Trivia
PrettyLittleLiar
Hayley
Tonton
3
Sandbags
TypicalAshChar
Chris
PrettyLittleLiar
4
Musical Chairs
Chris
Juan
TypicalAshChar
5
C4
Chris
Yana
Vanessa
6
Entrapment
Chris
Yana
7
Recollection
Chris
Juan
Contestant Tables
~
Castaway
1
2
3
4
5
6
7
Hayley
EXILE
EXILE
PLL
Yana
Vanessa
Yana
W
Chris
Cuddles
Tonton
EXILE
TAC
TAC
Hayley
Hayley
Hayley
Juan
RU
Juan
Cuddles
Chris
Yana
EXILE
Vanessa
Vanessa
Yana2
Hayley
Yana
Cuddles
Tonton
PLL
Hayley
Hayley
EXILE
Hayley
Chris
Vanessa
Cuddles
Tonton
PLL
TAC1
TAC
Hayley
Chris
TAC
Chris
Tonton
PLL
Hayley
Hayley
PLL
Juan
Juan
Yana
Hayley
Tonton
Chris
Chris
Cuddles
Chris
1 Vanessa played a phony idol, resulting in her receiving one penalty vote.
2 Juan used the double-vote pen, making his vote count as two.
Memorable Moments
The #Throwback season as a result of low turnout.
The amazing cast that still brought it.
Everyone fighting over Cuddles in the beginning.
PLL starting a witch-hunt for the mysterious criminal "A".
The revelation that PLL was in-fact A herself upon her elimination.
The various characters who tried to falsely claim they themselves were A.
TypicalAshChar vying for ReddyProbst's affection but actually just annoying him in the process.
Juan finding a new true love every time one of his other ones got voted out. Notably PLL and Hayley.
No one ever listening to Hayley even though she was totally right.
Vanessa's spot-on portrayal and frequent breakdowns at the drop of a hat.
Chris eating nearly two hundreds donuts over the course of the RP.
Chris winning four immunity challenges despite being morbidly obese.
Yana's negative personality that put her at odds with PLL and Hayley.
Juan & Hayley's power duo during the endgame.
Juan becoming the first person to us the double-vote pen and have it make any difference.
Juan calling Chris his true love after the final immunity challenge, resulting in him being voted out because Chris doesn't support gay marriage and Juan was being gay.
Chris and Hayley reportedly having no real alliances ever yet still becoming the final two.
Chris constantly advertising his presidential campaign.
TAC reneging on her deal to send PLL to Exile, causing various incriminating accusations and the downfall of PLL at the following Tribal Council.
TAC basically copying the mannerisms of the rest of the cast.
Tonton: *oink oink*
Tonton throwing all of Chris' donuts into the fire in a final act of defiance upon being voted out.
AudreyBeckyBB17Fan winning her first RP.
Returnees
Community content is available under
CC-BY-SA
unless otherwise noted.