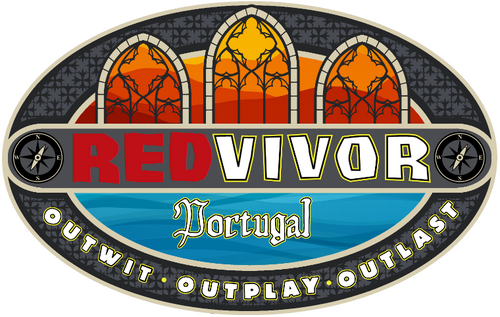 (Credit to Owenandheatherfan for the logo.)
In an arbitrarily "summer campy" rendition of Redvivor, fourteen brand new and eccentric castaways take to the wilds of Portugal, pitting themselves against mutineers, vain socialites, not-so-secret identities, music duos, and so much more.
Immunity Challenges
#
Challenge
Winner
Voted Out
1
C4
Braga Somebody
CK11
2
*Brawls*
Braga Somebody
Raocow
3
Unscrambling
Braga Somebody
RJoy
4
Social Pyramid
Bret
EssJee
Tobias + Tynnyfer
Gail
5
Merged Tribe Name
Tyler
Bret
6
Redvivor Trivia
Jemaine
Tyler
7
Musical Chairs
Jemaine1
Barbie
8
Hot Potato
Tobias
Kyle
9
Rhyme Time
Amon
Jemaine
10
Endurance
Tobias
Amon
1 Jemaine was given immunity by Kyle.
Contestant Tables
Castaway
Original Tribe
Swapped Tribe
Merged Tribe
Voted Out
Total Votes
COKEMAN11
1dra7
Aveiro
FireFlame
1st Voted Out
Day 3
5
Raocow
Manatee12
Aveiro
FireFlame
2nd Voted Out
Day 6
4
RJoy
BrunoSomebody
Braga
Somebody
Aveiro
FireFlame
3rd Voted Out
Day 9
4
EssJee
Shadowgeoff
Braga
Somebody
Braga
Somebody
4th Voted Out
Day 12
6
GailChordSchuler
NateNJ14
Aveiro
FireFlame
Aveiro
FireFlame
5th Voted Out
Day 12
6
BretMcKenzie
Toadgamer80
Braga
Somebody
Braga
Somebody
The
_Wandering_
Matts
6th Voted Out
Day 15
5
AppeTyler
Thebiggesttdifan
Braga
Somebody
Braga
Somebody
7th Voted Out
Day 18
6
Barbie
Ashley Hikari
Braga
Somebody
Aveiro
FireFlame2
8th Voted Out
Day 21
4
KyletheRobot
EnTrey
Braga
Somebody
Braga
Somebody
Purple Rock
Day 24
2
JemaineClement
Mister.. E.
Aveiro
FireFlame2
Braga
Somebody
9th Voted Out
Day 27
9
Amon
Owenandheatherfan
Braga
Somebody
Aveiro
FireFlame
10th Voted Out
Day 29
6
Tynnyfer
COKEMAN11
Aveiro
FireFlame
Aveiro
FireFlame
2nd Runner-Up
Day 30
12
Tobias
Ben109
Aveiro
FireFlame
Aveiro
FireFlame
Runner-Up
Day 30
3
NotRhonda
Rhonda the stalker fan!
Aveiro
FireFlame2
Braga
Somebody
Sole Redvivor
Day 30
0
2 At some point during this phase of the game, this person mutinied to the other tribe.
---
Returnees
Community content is available under
CC-BY-SA
unless otherwise noted.