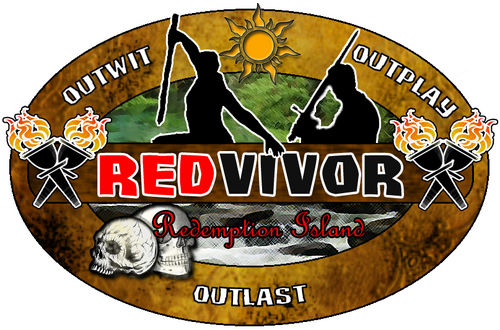 Redvivor strikes back with a new twist introduced into the series! I mean, if you discount that one season...
Chaos ensues.
Immunity Challenges
#
Redemption Island
Challenge
Winner
Voted Out
Inhabitant
Challenger
Eliminated
1
First Impressions
None
Caleb
Caleb
C4
Canjear
Oliver
2
Caleb
Oliver
Caleb
*Brawls*
Canjear
Jay
3
Oliver
Jay
Jay
N/A
Vengar1
Alex
4
Oliver
Alex
Oliver
Unscrambling
Vengar
Meghan
5
Alex2
Meghan
Meghan
Musical Chairs
Kim
Lindsay
6
Hot Potato
Fortune-Teller
Genevieve
7
Redvivor Trivia
Ronnie
Kim
8
BROGRAM™ Workout
Chadrick
Randy
9
Hide 'n' Seek
Alex
Ronnie
10
Fallen Comrades
Alex
Lightning
11
Endurance
Chadrick
Alex
1 Canjear forfeited the immunity challenge to Vengar.
2 Alex won the final duel and re-entered the game.
Contestant Tables
Castaway
Original Tribe
Merged Tribe
Voted Out
Redemption Island
Total Votes
Caleb
That Epic
None
1st Voted Out
Day 1
Lost Duel #1
Day 4
8
Jay
JERealize
Vengar
3rd Voted Out
Day 6
Lost Duel #2
Day 7
3
Oliver
Avery FireFlame
Vengar
2nd Voted Out
Day 3
Lost Duel #3
Day 10
5
Meghan
NateNJ14
Canjear
5th Voted Out
Day 12
Lost Duel #4
Day 13
4
Alex
Returned
Canjear
4th Voted Out
Day 9
Won Duel #4
Day 13
Lindsay
1dra7
Vengar
BROGRAM™
6th Voted Out
Day 15
10
Genevieve
Sunslicer2
Vengar
7th Voted Out
Day 18
9
Kim
Nduke
Canjear
8th Voted Out
Day 21
8
Randy
EnTrey
Vengar
9th Voted Out
Day 24
7
Ronnie
Toadgamer80
Canjear
10th Voted Out
Day 27
10
Lightning
Mister.. E.
Vengar
11th Voted Out
Day 30
5
Alex
Owenandheatherfan
Canjear
12th Voted Out
Day 32
9
Fortune-Teller
Shadowgeoff
Canjear
Runner-Up
Day 33
1
Chadrick
Thebiggesttdifan
Canjear
Sole Redvivor
Day 33
2
~
Castaway
1
2
3
4
5
6
7
8
9
10
11
Chadrick
Randy
Alex
Meghan
Genevieve
Lindsay
Genevieve
Randy
Randy
Ronnie
Lightning
Alex
W
Fortune
Caleb
Alex
Meghan
Genevieve
Lindsay
Genevieve
Kim
Ronnie
Ronnie
Lightning
RU
Alex
Alex
Alex
RI
Ronnie
Ronnie
Genevieve
Kim
Ronnie
Ronnie
Lightning
Fortune
Lightning
Caleb
Oliver
Jay
Lindsay
Lindsay
Kim
Kim
Randy
Ronnie
Fortune
Chadrick
Ronnie
Caleb
Alex
Meghan
Genevieve
Genevieve
Kim
Randy
Lightning
Chadrick
Randy
Caleb
Oliver
Jay
Lindsay
Lindsay
Kim
Kim
Alex
Chadrick
Kim
Genevieve
Alex
Meghan
Ronnie
Lindsay
Genevieve
Randy
Fortune
Genevieve
Randy
Oliver
Lindsay
Lindsay
Kim
Chadrick
Lindsay
Caleb
Oliver
Jay
Ronnie
Fortune
Meghan
Caleb
Alex
Chadrick
Jay
Caleb
Oliver
Lindsay
Oliver
Caleb
Lightning
Caleb
Chadrick
Memorable Moments
The actually pretty good cast.
Alex convincing her tribe to forfeit the challenge and vote her to Redemption Island.
Oliver's failed underdog story on Redemption Island.
The actually pretty close Number GIFs duel between Alex and Oliver on Redemption Island.
"He's just another victim of the Bad Girls Club." --Fortune-Teller, post-Ronnie vote-out.
Lindsay being totally clueless and getting eveyone's names wrong.
The 3-3-3 merge vote where Genevieve managed to turn everyone against Lindsay
The numerous failed attempts to blindside Ronnie, which resulted in it being blatantly obvious when Ronnie was finally voted out.
Ronnie's #BadGirlsClub alliance consisting of himself and a bunch of girls.
The failed #Litchfield alliance Alex attempted to start with all the women.
Randy's attraction to Ronnie.
Chadrick's BROGRAM and his friendship with Lightning.
Chadrick attempting to get Fortune-Teller to subscribe to his ab workout program.
Alex curb-stomping Meghan in the final Redemption Island duel.
Returnees
Community content is available under
CC-BY-SA
unless otherwise noted.