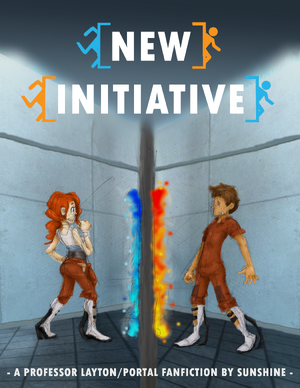 Welcome back, members of the <INSERT WEBSITE TITLE HERE> and fans of <INSERT AUTHOR TITLE HERE>. Today we present to you the second exciting and science-infused episode of the Professor Layton and Portal crossover fan fiction, New Initiative. Positive data was recieved from the release of the initial chapter two weeks prior, so we hope you will continue to enjoy the posting of the series. Once again, we are required by protocol to remind you that this fan fiction is rated <T> for mild violence, language and suggestive content, and that the plot may contain <SPOILERS> from the items Portal and Portal 2, and to a far lesser extent, possibly Professor Layton and the Unwound Future. Once again, we thank the <INSERT WEBSITE TITLE HERE> for continued support, and sincerely hope you continue to enjoy the series.
~ Love and Ravioli, Sunshine ♥ 01:56, February 16, 2012 (UTC)
Previously on New Initiative...
His vision and the glow alike cleared, and from the other end of the portal, Layton's eyes caught those of a human woman.
Chapter 2: [mandatory pre-test briefing]
In the tiny recess of his mind that was still somehow able to function, Layton pondered over when exactly it was he had last seen another human being. It was before he'd been brought to the facility, that was for certain – the human subjects that were forced through the tests were all kept separated from each other, to deter any discussion of rebellion and for the sake of a constant testing environment and things like that – and his memory immediately preceding his initial awakening in the Enrichment Center were either too foggy to make out or completely missing. Either way, he had not been in the presence of another human for a long, long time.
Hence, why he could do little but gape at the woman that had appeared at the other end of the portal he stood before.
She stared back at him with a similar expression, eyes wide, jaw slack. She wore an orange jumpsuit identical to Layton's, albeit with the sleeves tied around her waist to display a simple white tank top bearing an Aperture logo and the top portion of tight grey leggings with a light blue waistband; based on the uniform, she was apparently a test subject as well, if her somewhat disheveled and weary appearance wasn't enough of a hint of that. She was a good few inches shorter than he and her skin was significantly fairer, making the scratches and bruises and burns any test subject was liable to get far more evident on her, augmented by the fact that her slightly altered attire left her bearing just a bit more skin than he did. Her wavy auburn hair was tied back in a simple ponytail, something he could only assume was a requirement for female subjects, just as female soldiers were expected to either crop their hair short or tie it back when they entered the army. Her widened eyes, while slightly sunken (as he suspected his were; there weren't many truly reflective surfaces available to him in the facility, so he'd lost his sense of what he looked like over the years), were surprisingly bright, as if in spite of all that had happened in the Enrichment Center to wear her down, her spirit was still very much alive.
Briefly the woman moved her lips as if to speak, but nothing came out save for one choked, incoherent syllable that nearly sounded like something resembling the letter A. Layton merely continued to stare, feeling horribly improper but too stunned to really care, frozen on the spot.
After several minutes of silence, their shared overseer interrupted the moment by opening a ceiling panel again and raining confetti down on both their heads, sounding the horn sound effect once more. "SURPRISE," she chirped, sounding very pleased with herself. "AND JUST IN CASE YOU WERE WONDERING, I USED THE GOOD STUFF THIS TIME. THIS OCCASION IS WORTH IT."
Layton was still in too much of a state of shock to react. The woman, conversely, gave a look of mild disdain and brushed some bits of confetti out of her long, wavy bangs.
"NOW THEN, I SUPPOSE THIS REQUIRES A BIT OF EXPLANATION, DOESN'T IT?" Their supervisor chuckled to herself, seeming very much entertained by this whole situation. "IF ONE OF YOU WOULD JUST STEP FORWARD INTO THE OTHER'S CELL SO I CAN CLOSE OFF THIS PORTAL…"
The young woman threw Layton (still frozen on the spot) a brief glance and instantly decided it would be best if she was that individual, stepping through the portal and slipping past him without a word, the feeling of her bare arm just barely brushing his making something strange spark in the man. Human contact. When was the last time he'd had human contact? Too long ago to remember, it seemed.
"VERY GOOD," their overseer crooned almost mockingly as she closed off the portal, prompting a look of mild irritation from the young woman. "YOU'RE BEING UNUSUALLY OBEDIENT TODAY."
She gave a quiet huff in response, much to Layton's surprise. He'd never dared initiate any retaliation against his mechanical supervisor, however mild, never believing it to be worth it or, indeed, an entirely intelligent move. This woman was remarkably bold, it seemed – either that or she was newer to the testing game, still unbroken and not entirely aware of the voice's power, though a part of him highly suspected the former was the case.
There was a whirring noise from somewhere in the room, and the two humans turned to find a few floor panels lifting and retracting, a rudimentary excuse for a sofa rising up in its place. "YOU TWO MIGHT WANT TO HAVE A SEAT FOR THIS," the robotic voice of their overseer chuckled. "THIS IS GOING TO BE A VERY INTERESTING CONVERSATION INDEED."
The pair threw each other a brief nervous glance, the eye contact still strange and unfamiliar to Layton, but nonetheless the young woman strolled over and casually flopped down on the seat, leaning against the back and throwing her legs over the arm. He gaped for a moment, surprised by her boldness and her evident lack of concern over the situation, before cautiously following suit, sitting much more properly in the space beside her. It was a fairly small sofa, he noted; there was barely enough room for the two of them to sit together on it, their hips almost touching. A nagging feeling in the back of his mind couldn't help but think this was intentional, though he couldn't for the life of him figure out why. Now settled, both humans stared up at their overseer's camera, signifying that they were prepared for her explanation to begin.
As she had before, she let the silence linger for a moment, only interrupting it once with a proud little laugh. "NOW THEN… FIRST OF ALL, I WOULD LIKE TO DO SOMETHING THAT BOTH OF YOU KNOW VERY WELL I NEVER, EVER DO. AND THAT 'SOMETHING' IS TO COMPLIMENT YOU. YOU TWO ARE WITHOUT A DOUBT MY BEST TEST SUBJECTS – DEVOTED… INTUITIVE… INTELLIGENT… CREATIVE… OBEDIENT… COMPETENT… REMARKABLY RESISTANT TO DEATH…"
Both parties raised their eyebrows in surprise. Her statement was true; their supervisor never dared to encourage them with positive feedback of any sort, instead preferring to almost give a compliment and then ruin it by turning it into a passive-aggressive insult. Her current admission was almost disturbing in its kindness.
"UNFORTUNATELY FOR SCIENCE, MOST OF OUR TEST SUBJECTS ARE NOT QUITE AS CAPABLE AS YOU… PARTICULARLY IN THAT LAST CATEGORY," she continued. "YOU'D BE SURPRISED BY HOW MANY TEST SUBJECTS WE GO THROUGH EACH DAY; SO MANY OF THEM JUST DON'T SEEM TO REALIZE THAT NOT AVOIDING LASERS OR POISONOUS GOO OR TURRETS GENERALLY RESULTS IN THEIR LIFE NO LONGER CONTINUING. EVENTUALLY IT GETS TO THE POINT THAT WE END UP LOSING MORE TEST SUBJECTS THAN WE CAN BRING BACK IN, ESPECIALLY CONSIDERING VERY FEW PEOPLE ARE WILLING TO VOLUNTEER FOR THIS TASK AND THE FEW I MANAGE TO… ENLIST HAVE STARTED TO BECOME THE 'BOTTOM OF THE BARREL', SO TO SPEAK. IN SIMPLER TERMS, TEST SUBJECTS GO AWAY FASTER THAN THEY COME BACK IN, AND THE ONES WHO DO COME IN ARE LESS AND LESS CAPABLE, WHICH SUBSEQUENTLY LEADS TO EVEN MORE TEST SUBJECTS GOING AWAY. THEN I GO BACK TO SENDING YOU TWO THROUGH TESTS TO VENT MY FRUSTRATION, AND I THINK TO MYSELF, WHY CAN'T WE JUST HAVE MORE TEST SUBJECTS WITH THEIR ABILITIES?
"THAT WAS WHEN I REALIZED THAT I COULD – IN FACT, THAT I HAD SEVERAL OPTIONS FOR DOING JUST THAT. MY FIRST OPTION, SIMPLY SCANNING POTENTIAL TEST SUBJECTS FOR QUALITIES SIMILAR TO YOURS, QUICKLY PROVED TO BE IMPOSSIBLE – AFTER ALL, WHEN YOUR POOL OF APPLICANTS IS AS LIMITED AS OURS, YOU CAN'T AFFORD TO BE ALL THAT SELECTIVE. THEN I THOUGHT ABOUT CLONING YOU, OR AT LEAST PUTTING A COPY OF YOUR BRAIN PATTERNS INTO SOME ROBOTS, BUT BASED ON MY RESEARCH AND EXPERIMENTS, THE TECHNOLOGY IS JUST NOT QUITE THERE YET. AND LET'S FACE IT, AS MUCH AS IT WOULD DELIGHT ME TO WATCH THE TWO OF YOU WRITHE IN AGONY IN THE MIDST OF A CATASTROPHIC SYSTEM FAILURE, IN THE END I'D JUST BE DOWN TWO TEST SUBJECTS THAT I CAN'T AFFORD TO LOSE. SO I DID SOME RESEARCH ON HUMANS, THOUGHT ABOUT IT FOR MANY A DAY, AND I MADE A REMARKABLE – IF SOMEWHAT DISTURBING – DISCOVERY THAT ALLOTTED ME A SIMPLE AND VERY MUCH POSSIBLE SOLUTION TO MY LITTLE PROBLEM."
She paused another moment, leaving both test subjects immensely suspicious, if a bit curious as well. "IT TURNS OUT," their supervisor finally purred, "THAT IF YOU TAKE AN ADULT HUMAN FEMALE AND AN ADULT HUMAN MALE AND PUT THEM TOGETHER, ULTIMATELY THEY ARE ACTUALLY CAPABLE OF – TO PUT IT DELICATELY – PROCREATION."
The room went deathly silent, and at first Layton did not react, not quite registering her words. Then it hit him – procreation. As in, having children. As in, good God, this so-called "new initiative" was actually his overseer tossing him into a room with another human with the expectation that, eventually, the two of them would breed. Breed. Falling into increasing shock, he tried desperately not to look at the woman who sat beside him, everything suddenly making sense – his supervisor's inexplicable excitement and the way she'd seemed so proud of herself, her claims that she was trying to find new ways to "stimulate" him, the "special surprise" she claimed to have prepared for him, the way that he and this young woman were forcibly sitting far too bloody close to each other on a couch that seemed devilishly designed to be just a bit too small for two. Out of the corner of his eye, however, he saw her openly gaping, gaze flicking between him and their overseer's camera.
"I KNOW. HORRENDOUS THOUGHT, ISN'T IT," the electronic voice lamented in her usual deadpan. "ESPECIALLY THE THOUGHT OF YOU TWO NOT ONLY PASSING ON YOUR GENES, BUT COMBINING THEM. UGH, JUST THINKING ABOUT IT MAKES ME NAUSEOUS. BUT, DESPERATE TIMES CALL FOR DESPERATE MEASURES, AND AS UNPLEASANT AS THE TWO OF YOU ARE SOCIALLY AND APPEARANCE-WISE, YOU ARE SKILLED TEST SUBJECTS. IT ALL KIND OF BALANCES OUT IN THE END."
Layton could barely hear her, his mind still reeling. Procreation? He was expected to procreate with this woman? This woman he'd only just met, whose name he didn't even know, whose expression was slowly but steadily transforming from one of shock to one of combined disbelief and seething anger – wait, what? Was that directed towards him? Before he could consider further, she swung her legs purposefully off the leg of the chair and stood sharply, eyes closed, brow furrowed and jaw slightly agape as if mere words could not begin to fathom what she was thinking. Then, boldly, she raised a finger to instruct all around her to wait and opened her eyes, throwing their shared supervisor's camera a heated glare.
"Let me get all this straight," she began in a no-nonsense, unwavering voice – with the slightest hint of a British accent, he noted with surprise, though much lighter and more melodic than his. "Your blatant disregard for life has finally caught up to you and caused you some trouble, and to remedy this, you've decided to offer me up on a silver platter to any male you manage to scrounge up-" she paused momentarily there, her leer growing particularly accusatory- "and you expect me to just go along with that."
Layton promptly returned to his previous gaping. This woman. This bloody nutcase of a woman had just stood herself up and talked back to their overseer without the faintest shred of reluctance or fear, as if she felt she had every right to voice her (entirely founded) distaste for the AI's latest plot, as if she wasn't ultimately just an easily disposable plaything to the electronic woman. The supervisor he didn't even dare speak to, and here this lady was, questioning her judgment with that sharp, yet silken tongue of hers. He didn't quite know whether to be incredibly impressed or absolutely horrified.
Nonetheless, their overseer responded only with yet another short, sultry chuckle, as if the woman's outburst was simply an amusing little trifle. "OH, SILLY GIRL, OF COURSE NOT," she laughed in that distantly chiding tone of hers, one that alarmed the recipient just as much as it calmed them. "HAVEN'T YOU BEEN LISTENING TO ME AT ALL? OH, WAIT, I SUPPOSE THAT'S EXPECTING TOO MUCH OF YOU, ISN'T IT?"
Even though the comment wasn't directed towards him, Layton found himself wincing; their supervisor was adept at finding just the right spots to attack with her verbal jabs, invariably presenting even the most cliché insults with such finesse that they left victims quite successfully taken aback. This woman, however, showed no physical reaction aside from her eyes narrowing even farther in displeasure, as if the strike did nothing more than make her stronger.
"ANYWAY," their overseer's voice continued, apparently choosing to ignore the woman's lack of a reaction, "THIS NEW PROGRAM IS NOT, AS YOU SO CRUDELY SUGGESTED, MY MERELY PAIRING YOU OFF AT RANDOM UNTIL WE ACHIEVE A SUCCESSFUL CONCEPTION. NO, THAT WOULD BE TOO RISKY; WHO KNOWS WHAT KIND OF HORRIBLE GENETICS THE OFFSPRING COULD END UP WITH. THE WHOLE REASON I'VE INITIATED THIS COURSE OF ACTION IS TO BEGIN ASSIMILATING A MORE TALENTED GROUP OF TEST SUBJECTS, SO ARBITRARY MATING IS NOT SOMETHING I CAN ALLOW. YOU AND YOUR PARTNER HAVE BEEN SELECTED BECAUSE YOUR ABILITIES AND YOUR GENES – WELL, MOST OF YOUR GENES; I CAN'T SAY THE SICKLY-PALE SKIN OR GIGANTIC EARS ARE ENTIRELY DESIRABLE TRAITS – PROVIDE THE BEST CHANCE OF ACHIEVING THESE RESULTS." She paused for a moment then, apparently expecting the inevitable uneasy glance between the pair of humans that subsequently occurred, and then chuckled, "YOU TWO ARE GOING TO BE EACH OTHER'S SOLITARY MATES FROM THIS POINT FORWARDS."
In the barely-functioning back of his mind, Layton abruptly decided he was thankful he'd chosen to be mute. Otherwise, he would have lost the ability to speak coherent English many times over by this time.
The woman glanced behind her at Layton, an unusual mix of emotions in her eyes – horror, curiosity, resistance, uncertainty – then she turned back to their supervisor's camera with that ever-unwavering glare. "Again," she repeated sternly, "you expect me to just go along with this."
"ABSOLUTELY," their overseer's voice agreed without missing a beat, not the slightest inflection of uncertainty tainting her tone. "REALLY, YOU GIVE ME NO CREDIT AT ALL. I'VE DONE MY RESEARCH. I KNOW THAT YOU HUMANS, FOR REASONS I'LL NEVER BE ABLE TO DECIPHER, REQUIRE SEVERAL SIGNIFICANT ACHIEVEMENTS IN TRUST, RESPECT, FRIENDSHIP, AND OTHER SUCH BONDS BEFORE YOU ALLOW YOURSELVES TO MATE. SEEMS SILLY, REALLY, CONSIDERING THE ONLY REAL ABILITY YOUR SPECIES HAS BESIDES TESTING IS REPRODUCTION. BUT I SUPPOSE I'M NOT ONE TO JUDGE; I'M JUST THE OBSERVER. ANYWAY, THAT'S THE WHOLE PURPOSE OF THIS NEW TESTING INITIATIVE."
Again the two humans exchanged a surprised, nervous glance, resulting in a chuckle from their shared supervisor. "OH, SILLY ME. DID I FORGET TO MENTION HOW THE NEW TESTING INITIATIVE TIES INTO ALL THIS? WELL, THEN, ALLOW ME TO EXPLAIN: THIS NEW TESTING TRACK IS ONE WHICH WILL REQUIRE THE TWO OF YOU TO WORK COOPERATIVELY AS A DUO TO COMPLETE EACH CHAMBER, WITH EACH BEING UTTERLY IMPOSSIBLE TO COMPLETE SOLELY THROUGH INDIVIDUAL EFFORT. AS A RESULT, MY THEORY IS THAT YOUR PARTICIPATION IN THIS SERIES OF TESTS WILL HELP TO FACILITATE THE MUTUAL RESPECT, TRUST, COOPERATION, ATTACHMENT, AND COMMUNICATION SKILLS-" Layton could practically feel her gaze flick accusingly towards him with that comment- "THAT YOUR SPECIES ARBITRARILY REQUIRES BEFORE YOU'RE INCLINED TO MATE. SIMPLY INGENIOUS, WOULDN'T YOU AGREE?"
Layton found himself blinking spastically, glancing between the camera and the human woman, who seemed to be doing the same. "…you mean… we're testing together?" The woman tentatively inquired, incredulity finally forcing her voice to waver just slightly as she voiced the question evidently going through both their heads. Under normal circumstances, their supervisor went out of her way to keep the humans from so much as seeing each other – a kind of psychological warfare to keep the test subjects from acting up, Layton guessed – and now she was to have them on the actual testing track together? Then again, this current situation had long made it clear these were no longer "normal circumstances" they were acting under, so perhaps this new revelation shouldn't have surprised him.
"YES," their overseer sighed exasperatedly in response, "YOU TWO ARE TESTING TOGETHER, AS I JUST EXPLAINED APPROXIMATELY FIVE SECONDS BEFORE YOU ASKED. GOD, IS IT REALLY THAT DIFFICULT FOR YOU TO LISTEN TO ME? I CAN ONLY PRAY THAT'S ONE TRAIT YOUR OFFSPRING WON'T INHERIT…"
The woman threw the camera a brief glare, then turned to look back to Layton; studying him, it seemed, her analytical expression and unwavering gaze quickly making him tense up – partially because deep-rooted instincts from a time long ago seemed to regard the stare as similar to a predator's, and partially because he hadn't been in the presence of another human, let alone a young woman, for God knows how long and he knew testing had left him looking quite a wreck and, let's face it, knowing you're both unprepared and distinctly unattractive in the presence of a lady is not the best thing for a man. Thus, he sat up a little straighter in the hopes that posture might help his appearance just slightly, ran a hand through his ever-mussed hair in a nervous gesture and avoided eye contact with the woman like his life depended on it.
After a moment her eyes narrowed, apparently not satisfied with her assessment, and turned her attention back to the overseer's camera. "So I'm going to have to do all these tests with him," she reiterated, leaning against one of the glass walls of the cell and folding her arms just beneath her bust. "And how, exactly, am I supposed to know he's actually any good at this?"
Layton threw a mild glare in her general direction in response, though he wasn't sure if she caught it or not. If we're going go down that road, I don't know if you're any good either, he mentally retorted, miffed at her accusation. Granted, he wasn't about to throw that barb out now – anything that might slip out of his mouth would only be met with mockery from their supervisor – but perhaps he would bring it up later, when they weren't being watched.
Oh, right. They were always being watched. Damn robot.
"NOW, NOW, DON'T BE SO HARD ON HIM," their overseer chided, though the distinct undertone of laughter in her voice made it clear to Layton she wasn't all that passionate about rushing to his defense. "I KNOW HE APPEARS SCRAWNY AND VACANT, BUT HE CAN STILL TEST, BELIEVE ME. IF ANYTHING, I'D WORRY ABOUT YOU SLOWING HIM DOWN…"
Cocking an eyebrow in the direction of her camera, Layton glanced over his torso briefly, unable to see what it was about him she seemed to think was scrawny about him. He'd always considered himself to be of decent height and stature, and though he certainly wasn't boasting the ripped muscles of a heavyweight, he knew damn well he was plenty toned. After all, you didn't survive these tests and still remain scrawny – it was a physical impossibility. And vacant? …he preferred "lost in thought", which was far closer to the truth, in his opinion.
The woman glanced between Layton and the camera again, her expression clearly relaying that she wasn't quite convinced. "Alright," she conceded temporarily, "he can test. Wonderful. But a mate?! I think he'll agree with my saying that that part of your plan is just insane." She turned to him then, a stern look of urging on her face. "Isn't that right?"
He blinked spastically, taken aback at being brought back into the conversation so abruptly, and found he could do nothing but dumbly let his jaw go slightly slack, as if he were considering speaking but hadn't quite decided to yet, and glance about the room in an evident attempt to avoid absolutely everyone's gaze. She nodded at him once, again urging him to respond, then waited another moment before her brow furrowed and she relented with a distinctly frustrated sigh. "Great. Paired me up with a bloody mute," she grumbled, rolling her eyes. Layton's jaw clenched with irritation at her open disdain, but nonetheless, he did nothing to prove her wrong – he couldn't, really, considering it was true that he didn't speak. Not while their overseer was watching, at least. And of course, she was always watching.
"OH, NO, NO," their supervisor interrupted, the tone of her voice bringing to Layton's mind an image of her smiling and shaking her head in an act of gentle, superior chiding. "HE'S PERFECTLY CAPABLE OF SPEAKING. HE JUST SOUNDS LIKE AN IDIOT WHEN HE DOES, WHICH IS WHY IT'S BEST FOR ALL OF US THAT HE'S SO GRACIOUSLY CHOSEN NOT TO." At this point Layton stood rather abruptly, fists clenching at his sides – goddamn it, what was it about his British accent that annoyed her so?! – only for her to respond, almost as if amused, "OH, AM I WRONG? ARE YOU ABOUT TO DEMONSTRATE FOR US JUST HOW WELL AND NON-IDIOTICALLY YOU DO SPEAK? BECAUSE I WOULD LOVE TO SEE THAT."
He leered at the camera for a moment more before relenting, folding his arms over his chest and glancing away. Damn that robot. Much as he disliked her, he had to admit she knew her test subjects well – especially their weak points.
"NOW THEN," she continued in her usual tone, as if she didn't even have to acknowledge the existence of the previous confrontation, "ARE WE ALL DONE BALKING AT MY PLAN AND ASKING POINTLESS QUESTIONS? BECAUSE I DON'T HAVE ALL DAY, YOU KNOW. I'VE EXPERIMENTS TO RUN AND RESEARCH TO BE DONE OTHER THAN YOURS, SO I WOULD VERY MUCH LIKE TO GET TO THE TESTING TRACK."
"Oh, I've still got plenty of questions," the woman grumbled, rising from her place leaning against the cell wall and walking towards the steel plate where the exit portal was usually placed. "But the one thing that has become clear to me during this conversation is that you won't bother to answer any of them. So, might as well get this foolishness over with." She turned to Layton, inquiring, "You agree?"
Relieved to at least have this discussion over with, he nodded, to which the woman suddenly put on an enormous, exaggerated grin of pride. "Oh, good!" She chirped with absolutely false cheer. "You do respond! And here I was, worried you might have had some brain damage, when you actually just think you're too good to speak to the likes of me. My mistake."
He threw her a glare in reply, and stormed over the steel plate, cutting in front of the woman and throwing their overseer's camera a look that he hoped would communicate that she should just open the damn portal already. God, how he wished he could cut this woman down to size a bit, make it clear for her what he was really thinking rather than have her assume such ridiculous things. She was starting to make his resolve not to speak waver a bit, to be perfectly honest.
"WELL, WELL, IT LOOKS LIKE WE'RE GOING PLACES ALREADY," the supervisor's voice chuckled, evidently quite entertained by their spats. "I'M SIMPLY DYING TO SEE WHAT KIND OF DATA YOU TWO WILL PRODUCE ONCE THE TESTING ACTUALLY STARTS. VERY EXCITING, REALLY. YOU WOULDN'T BELIEVE HOW PROUD I AM FOR HAVING THOUGHT UP THIS PROGRAM RIGHT NOW."
Get on with it, Layton thought, again attempting to relay his unspoken messages to their overseer by narrowing his eyes at her camera.
Oddly enough, it seemed to work this time. "I CAN SEE YOU'RE BOTH EAGER TO BEGIN…" she paused as a blinding orange flash shone on the metal before the humans, fading to reveal the presence of the expected orange portal, with the blue endpoint appearing simultaneously on the wall outside the cell. "SO WHY DON'T WE JUST GET GOING?"
Nodding partially to their overseer and partially to himself, Layton quickly stepped through the portal, unfazed after years of testing to see himself through the opening – the view from the opposite endpoint. The woman followed after, though Layton honestly barely heard her; she stepped so nimbly that she was like a cat walking silently on its pawpads, slinking behind him. Both humans instinctively stepped to the adjacent doorway, a mere impulse after the many testing tracks each had endured, and stood before it, waiting for their supervisor to open it. She waited a moment, evidently hoping like before to let the suspense build, before a whir sounded behind the doorway's elegant machinery and it slid open with a whoosh of air, proudly revealing the brand-new testing chamber it hid behind it.
"LET THE NEW INITIATIVE BEGIN."
Chapter 2 Trivia
In both Portal and Portal 2, Chell never comes face-to-face with another human being; thus, it is assumed Layton never would have either - until this point, of course.
The woman's outfit is based off of Chell's slightly modified outfit in Portal 2.
As mentioned in the previous chapter, the "good confetti" is based off of dialogue from GLaDOS in Portal 2.
The initial inspiration for GLaDOS' plot to create more test subjects by forcing her existing ones to breed stems from a deleted line from an unused co-op plotline in Portal 2. Beginning to realize that human test subjects are necessary for the test results to be reputable, she decides that she must "make" more humans. She then continues to state, "I know how humans make more humans, and frankly, it's ridiculous. It also assumes that you already have a human, which I hope somebody got fired over." The authoress then began to wonder what would happen if this method was the only choice GLaDOS had for producing more test subjects.
Layton's comment that GLaDOS' verbal barb only seemed to make the woman stronger was a rather obvious reference to the famous Star Wars quote, from Obi-Wan Kenobi: "Striking me down will only make me stronger."
GLaDOS' comment concerning Layton's "gigantic ears" was based on the authoress' own observation that Layton has rather large, round ears.
GLaDOS' apparent belief that Layton's British accent makes him sound "idiotic" was supposed to reference her distaste for Wheatley, who speaks with a Bristol accent and whom she regards as a "moron", in Portal 2.
"I've experiments to run and research to be done" is almost a word-for-word quote from the lyrics of "Still Alive".
Layton's obvious irritation at not being able to communicate with or correct his new testing partner was done with the hope of providing reasonable explanation for why he would ultimately begin speaking with her, regardless of GLaDOS' presence.
Community content is available under
CC-BY-SA
unless otherwise noted.