Hey, you signed up for my camp, are you sure you want to be on both teams??- TDi19
Sweet, but how does it work? Cause I wanted to put on a Duncan remake, he may look sucky. but here he is :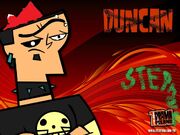 When 16 made up campers join. 8 dudes and 8 chicks the contest will start. 1 contestant will be eliminated every two days by a jury made up of Chris, Robert, The oppposing teams captian, and the previously eliminated campers. The team does have some say in it they choose the bottom three for the jury to eliminate and if the jury can't decide the team chooses which member to eliminate.
It works by creating a page for your contestant and adding him to Total Drama Freedom
Stephen is that good? Codaa5 20:02, 4 January 2009 (UTC)
Yes.
For tdf, does the original tdi contestant have to be the same sex as your created camper, bcuz I sorta wanted to be Noah...--Tdifan1234 01:31, 5 January 2009 (UTC)
No but you already have chosen Courtney, but you can switch with TDi and take Noah and give her Courtney
ok --Tdifan1234 01:38, 5 January 2009 (UTC)
Umm, okay, any one in particular? --Nalyd Renrut 00:58, 6 January 2009 (UTC)
Umm, okay, any other characters? --Nalyd Renrut 21:06, 6 January 2009 (UTC)
Cool, and can I control the characters I created? --Nalyd Renrut 21:09, 6 January 2009 (UTC)
Ok, what does the jury do?--Tdifan1234 02:16, 8 January 2009 (UTC)
Is the Anti-Renrut Alliance personal or just part of the roleplay? --Nalyd Renrut 18:41, 10 January 2009 (UTC)
yeah im sorry about that. it's because i wanted to make them shorter, but you know paint doe'snt let you do that. Ezekielguy
hey just to let you know total drama land 1 has started and we need chris (you) to start hosting. i will put up the challenges on my page. if you have any challenges you can think of, please tell me and i will accept it! Sorreltail18 01:13, 11 January 2009 (UTC)sorrletail18
Maybe. --Nalyd Renrut 01:23, 13 January 2009 (UTC)
Hey, If you can, can You put "bullet" from TDF on Total Drama Jr. High cuz I just put Natasha up there and adding "bullet" to the series would b awesome!--Tdifan1234 01:25, 16 January 2009 (UTC)
Hey, do you want to join Total Drama Whatever? If u could GREAT! Sorreltail18 02:07, 16 January 2009 (UTC)sorreltail18
Time to vote on Total Drama Whatever!--Tdifan1234 23:41, 17 January 2009 (UTC)
Final 2
Congratulatiosn on making it to the final 2 in Nalyd Renrut's TDI Camp! --Nalyd Renrut 03:06, 18 January 2009 (UTC)
TDF
Hey, even if were voted off can we still talk and stuff? Codaa5 02:52, 19 January 2009 (UTC)
Tdifan1234's TDI Camp
Hey, you should come join my new camp. --Tdifan1234 17:53, 19 January 2009 (UTC)
CONGRATULATIONS!!!
Congrats on winning Nalyd's TDI Camp as Trent!! Has fun competing against you. Good luck in my camp- TDI19
Episode 1 is done!!! Come talk about it at Talk:Just Like Old Times (Part 1). -KoopaKidJr.
If on her page you put "picture from Veronica." k? --Me llamo Nalyd Renrut.TalkContributions 20:22, 14 February 2009 (UTC)
What do you mean? --Mi llamo Nalyd Renrut.TalkContributions 22:52, 26 February 2009 (UTC)
Is Total Drama Middle School continuing? If not I will have to delete the character pages (as they are short and take up names). --Mi llamo Nalyd Renrut.TalkContributions 10:59, 10 April 2009 (UTC)
I'm trying to make a Total Drama: The Movie animation. What does Talon look like? If you see a duck don't touch it, because it'll bite your finger. 00:09, December 18, 2009 (UTC)
I joined one of your camps
It was in the tdicamps wiki.
Hi, you have character pages that are lacking a story and are over a year old, the wiki has a rule about pages needing to be used ina year. Now if you want the pages and plan to return and start the story please tell me or make an edit on them. If you do not send me a message as soon as possible allowing for their deletion. If you are gone they will be deleted in a few days. Thanks, and please respond thanks. --Kenzen11 - Blog - Talk 01:50, November 12, 2011 (UTC)
Do you plan to continue "Total Drama Island (Usitgz)"? It hasn't been updated in a year and hasn't had a new chapter in 4 years, so it's become a candidate for deletion. If you plan to continue this story, then I need to hear from you within one week, otherwise it and its character pages will have to be deleted. Gideoncrawle I have a song to sing, O! Sing me your song, O! A wandering minstrel, I-- 19:31, September 10, 2014 (UTC)
Please note that, under our dead fic rules, your statement of intent to continue means that you are committing to post at least one new chapter within three months. If you fail to do so, your story may be deleted at that time without further warnings. (In other words, you might get another warning, but you shouldn't count on it.) You may remove the deletion tag at your convenience. Gideoncrawle I have a song to sing, O! Sing me your song, O! A wandering minstrel, I-- 02:48, September 11, 2014 (UTC)
Let's vote off Dee Jack and Jill went up a hill Jack burn down on booze and pill, Mary had a little lamb, Mary just don't give a damn no more! 17:24, December 23, 2014 (UTC)
Community content is available under
CC-BY-SA
unless otherwise noted.